Warner Bros. Is Cracking Down On 'Harry Potter' Fan Festivals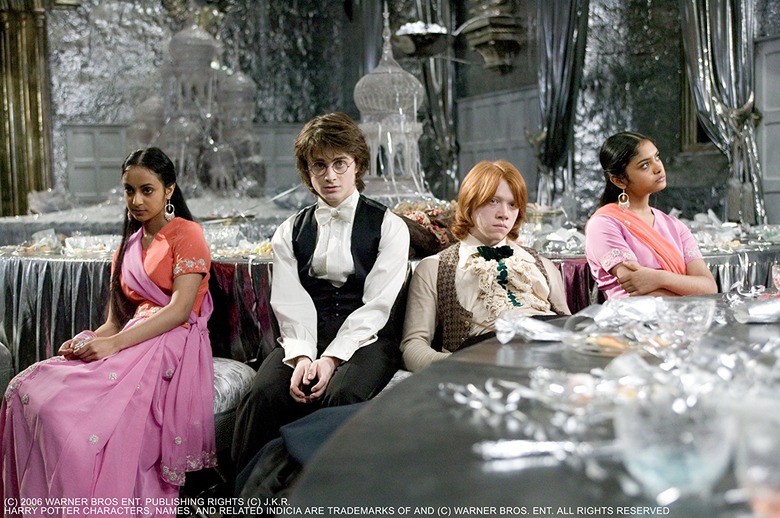 Warner Bros. is casting a Dark Mark over Harry Potter fan festivals across the country. The studio is cracking down on unofficial local fan festivals for the beloved fantasy series, leaving fans upset that the studio is sucking the joy out of fan events. And we thought Dementors were bad.The Associated Press reports that Warner Bros. has begun a strict crackdown on local Harry Potter fan festivals across the country, citing unauthorized commercial activity.
Festivals around the country have been receiving cease-and-desist letters from Warner Bros with new guidelines prohibiting the festival's use of "any names, places or objects from the series," according to AP. Festival directors in Aurora, Illinois, and Ithaca, New York, have reported receiving these new guidelines prohibiting the association with the Harry Potter brand, as a way of protecting the trademark. In a statement,  the company said:
"Warner Bros. is always pleased to learn of the enthusiasm of Harry Potter fans, but we are concerned, and do object, when fan gatherings become a vehicle for unauthorized commercial activity."
The festivals, which were often free events created and run by fans who only want to share their love of the franchise, will now have to transfigure their events into a generic "wands and wizards" festivals.
Darlynne Overbaugh, the festival director of the Wizarding Weekend in Ithaca told the AP that she understands the company's need to protect the franchise, but she felt like her festival — which hosts upwards of 20,000 fans — was helping to build it. But she is committed to still providing a magical experience, adding, "Magic existed before Harry Potter, and you can't put a trademark on enthusiasm and creativity."
But Warner Bros.' crackdown on Harry Potter fan festivals is not just controversial among fans. Gregory Mandel, professor of intellectual property law at Temple University, said this may actually be a bad business decision on Warner Bros.'s part — only serving to alienate the fans that they so deeply want to go to the Harry Potter theme parks or buy merchandise.
"Obviously one could argue that is the wrong business decision and that by having these informal pop-up festivals, it makes all the Harry Potter fans more enthusiastic and more likely to go to the movies and theme parks," Mandel said.
Warner Bros. has long been overly severe when it comes to Harry Potter fan events. In 2003, a woman in the U.K. was sent a cease-and-desist letter over a Hogwarts-themed dinner party that only had 30 guests. A Los Angeles bookstore called "Whimsic Alley" was sued by the company for selling Harry Potter-inspired merchandise like chocolate frogs and Harry Potter scarves. And parody musicals like A Very Potter Musical have run into legal troubles with Warner Bros. It's a strange message for Warner Bros. to send to fans of a series that preaches inclusivity and joy. But hey, someone's gotta make sure those Wizarding World of Harry Potter ticket prices remain absurdly high.