Jon Bernthal To Return For 'The Walking Dead' Season 9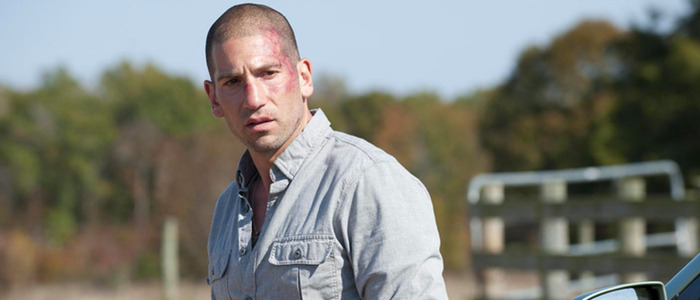 Jon Bernthal's career has really taken off since his Walking Dead days, but the actor isn't against staying true to his roots. Bernthal will return for The Walking Dead season 9, just as his former co-star Andrew Lincoln exits the show.
Warning: spoilers for previous seasons of The Walking Dead ahead.
Despite the huge hinderance of being dead, Jon Bernthal's character, Shane Walsh, is returning to The Walking Dead. THR reports that Bernthal is coming back for season 9 of AMC's never-ending zombie show, just as star Andrew Lincoln is exiting. Shane was a main character in the first two seasons of the series – he was the former partner of Lincoln's Rick Grimes, and became an antagonist on the series after the zombie outbreak. Shane and Rick had a lot of bad blood, primarily due to Shane having an affair (and fathering a child with) Rick's wife, Lori.
Shane died in season 2, and then returned as a zombie. He was then quickly dispatched with a headshot by Rick's son Carl. Which begs the question: just how will Shane return? No one knows yet, but my guess is either in a flashback or a dream sequence. However Bernthal returns to the show, his part is going to be brief – the actor has a commitment to Netflix's The Punisher, and THR indicates that it's likely Bernthal will only appear in three episodes maximum of The Walking Dead season 9.
The Walking Dead is undergoing several changes as it enters its ninth season. Andrew Lincoln, who has been with the show since the beginning, is leaving, with plans to only appear in six episodes of the new season before he departs. "There needs to be an end game and that is something that is definitely being talked about," Lincoln said. "There's certainly an endgame in my head. Whether or not that's the same endgame that's in the producers' heads or the people I work with, is another matter. That's open for discussion."
After Lincoln departs, co-star Norman Reedus will then be bumped up to become the show's main character. Co-star Lauren Cohan will depart the show as well. Cohan held out on announcing her return until she received a better deal, and she now plans to come back for six episodes before leaving for good. Showrunner Scott M. Gimple is also leaving the series, with Angela Kang set to take over.
With all these changes, and a sense of diminishing returns from fans, one can't help but think that The Walking Dead has perhaps run its course as a TV show. AMC is unlikely to let the show go anytime soon, though. Despite dwindling ratings, The Walking Dead remains one of AMC's biggest hits – so much so that they gave it its own spin-off, Fear the Walking Dead. Bringing Bernthal back, even in a limited capacity, may be one way to energize the show's fanbase as the series goes through its season 9 changes.
The Walking Dead season 9 is expected to premiere later this year.