'Like Father' Trailer: Kristen Bell And Kelsey Grammer Navigate A Rough Father-Daughter Relationship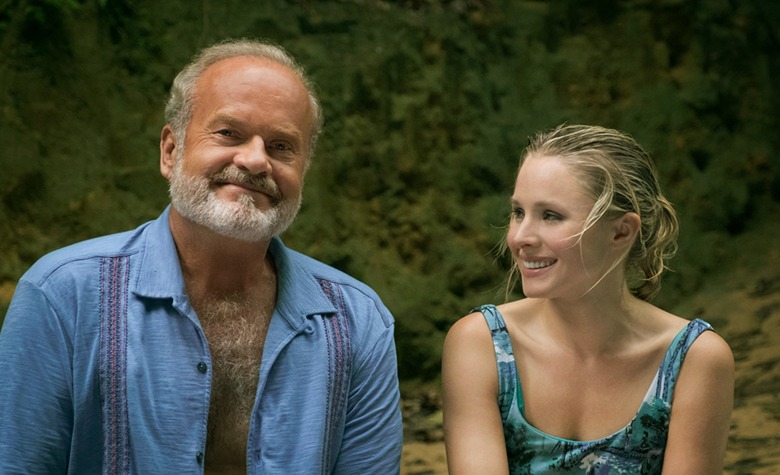 Netflix's onslaught of original content is becoming more overwhelming by the day — but there are still a few of their movies that are worth checking out. Namely, those of the romantic-comedy variety, for which Netflix is engineering a sort of revival after rom-coms disappeared from the big screen. And it looks like their next promising sorta rom-com is Like Father, a dramedy starring Kristen Bell and Kelsey Grammer as an estranged father-daughter duo who try to reconnect after Bell is left at the altar. See the first Like Father trailer below.
Like Father Trailer
Kristen Bell and Kelsey Grammer are on a boat. And they're going fast toward a cathartic reconnection after years of being an estranged father-daughter duo. Bell stars as a workaholic bride-to-be who gets left at the altar and ends up accidentally taking her honeymoon cruise with dear old dad. Cue hijinks!
At first glance, Like Father feels like a conventional family dramedy about an adult reconnecting with an estranged parent after hitting rock bottom. But Bell and Grammer (both highly underrated and underused actors) are absolutely charming in this trailer, and prevent it from falling to the angsty pitfalls of many family dramedies.
There's also the surprise co-star that may help elevate this film: Seth Rogen. Rogen stars as one of the cruisegoers who strikes up a connection with Bell's character, and his wife Lauren Miller-Rogen writes and directs the Netflix film. It's a reunion between Fanboys actors Bell and Rogen, and a guarantee that you will get at least a few belly laughs from Rogen's befuddled delivery.
Here's the official synopsis for Like Father:
When a workaholic young executive (Kristen Bell), is left at the altar, she ends up on her Caribbean honeymoon cruise with the last person she ever expected: her estranged and equally workaholic father (Kelsey Grammer). The two depart as strangers, but over the course of a few adventures, a couple of umbrella-clad cocktails and a whole lot of soul-searching, they return with a renewed appreciation for family and life.
Like Father premieres on Netflix on August 3, 2018.