Will Ferrell Dusts Off His Singing Voice For 'Eurovision' Movie For Netflix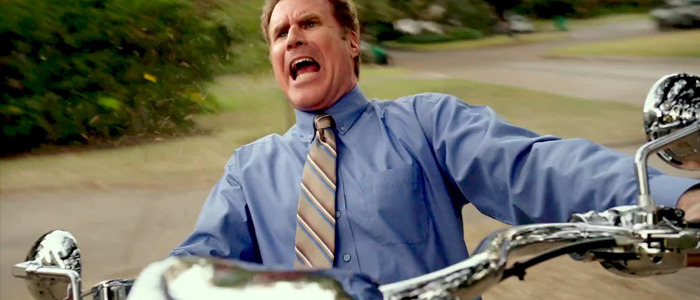 Netflix has just snagged one of the biggest names in comedy to star in one of the streaming service's original films. Will Ferrell, the triple threat actor/writer/producer of Hollywood comedies like Step Brothers and Talladega Nights: The Ballad of Ricky Bobby, will co-write and star in a new movie called Eurovision, which is about an internationally popular music competition show. Read more about the upcoming Eurovision movie below.
reports that Ferrell will star in a Eurovision film, which he'll co-write with Andrew Steele (Casa de mi Padre, A Deadly Adoption). The outlet says "revolves around the wildly popular and long-running international TV music competition The Eurovision Song Contest. It is a contest that began in Switzerland in 1956 when seven West European nations participated. This year 43 countries competed for the prize, won in Lisbon by Netta performing the song Toy."
The contest has produced some notable winners over the years, including ABBA (who won in 1974) and Céline Dion (who took home the top prize in 1988), both of which went on to wide fame and successful music careers after that. There's no word on whether Ferrell will be playing an entrant into the competition or a judge, but he has a history of singing in his film and television work. The Catalina Wine Mixer sequence from Step Brothers is apparently a high point:
Ferrell also broke out his singing voice in 2004's Anchorman: The Legend of Ron Burgundy. When I saw Ferrell and the film's cast perform a Live Read of that script in 2013, I captured a video of them performing "Afternoon Delight":
Luring in Will Ferrell to star in an original movie is a huge "get" for Netflix, who is always on the hunt for A-list actors to increase the value of their streaming service for customers. The company essentially already has full market penetration in the United States, so a movie with a major Hollywood star that theoretically has international appeal is a big deal for them. It also means a lot for Ferrell, who's largely spent the past ten years in movies with premises so niche that the jokes didn't land nearly as well overseas.
This isn't the first time Netflix has worked with a mainstream comedian, of course. They've previously partnered with another Saturday Night Live veteran, Adam Sandler, for multiple movies, like The Ridiculous 6 and The Do-Over. Though most of those films were critically reviled, Netflix claims they're some of the most-watched movies on the service – but until they release their internal viewership numbers for individual titles, we'll never be able to do a more specific analysis.