Sequel Bits: 'Maleficent 2' 'Avatar', 'Glass', 'Jurassic World', 'Jumanji 3' 'Sicario 3' And More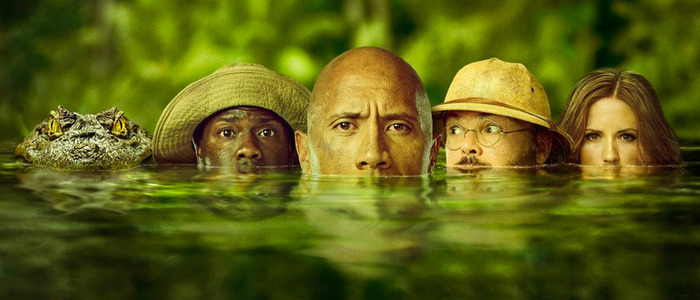 In this edition of Sequel Bits:
Judith Shekoni joins Maleficent 2
Zoe Saldana is done filming her scenes for Avatar 2 and Avatar 3
Samuel L. Jackson was very impressed by James McAvoy's Glass performance
Jeff Goldblum says he would be down for another Fly movie, so someone should make that happen
B.D. Wong doesn't think Jurassic World's Dr. Wu is a villain
Dwayne Johnson confirms work has begun on another Jumanji sequel
Producers want Emily Blunt back for Sicario 3
Pet Sematary has begun filming
The King of Kong's Billy Mitchell tries to explain himself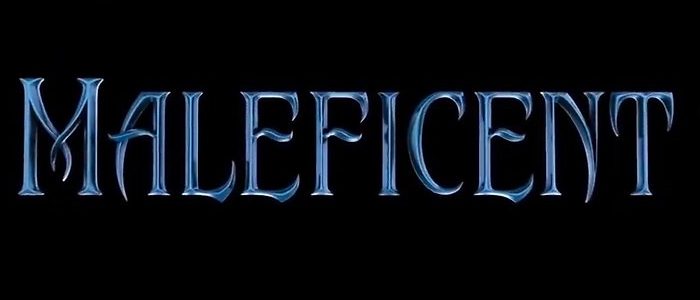 The Maleficent 2 cast is still growing. Variety reports Heroes: Reborn actress Judith Shekoni has singed on to co-star in the Disney sequel. Shekoni will play Shrike, a character who befriends Maleficent, played by Angelina Jolie. Elle Fanning returns for the sequel as well, and new cast members include Michelle Pfeiffer, Chiwetel Ejiofor, Ed Skrein, Robert Lindsay, and Harris Dickinson. The film is a sequel to 2014's Maleficent, which retold the story of Sleeping Beauty from the point-of-view of villain Maleficent, turning her from a straight-up antagonist into more of an anti-hero. There's no release date for the sequel yet.
A fantasy adventure that picks up several years after "Maleficent," in which audiences learned of the events that hardened the heart of Disney's most notorious villain and drove her to curse a baby Princess Aurora, "Maleficent II" continues to explore the complex relationship between the horned fairy and the soon to be Queen, as they form new alliances and face new adversaries in their struggle to protect the moors and the magical creatures that reside within.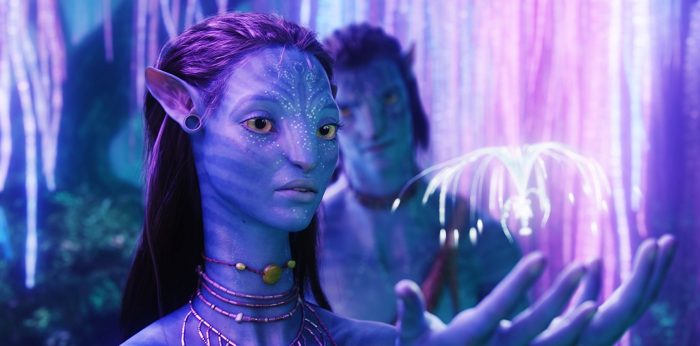 It took James Cameron a few years to finally get his Avatar sequels off the ground, but now it looks like the filmmaker is moving full-steam-ahead. Case in point: co-star Zoe Saldana is already done filming her scenes for both Avatar 2 and Avatar 3. Speaking at CineEurope, Cameron offered some updates on the film, saying Saldana wrapped her part a week ago, and that the filming results so far are turning exceeding expectations. Avatar 2, which will take audiences back to the 3D world of Pandora once again, opens December 18, 2020.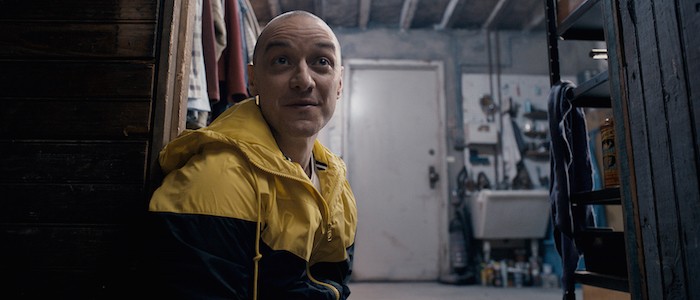 I'm pretty darn excited for Glass, M. Night Shyamalan's new film that serves as a sequel to both Unbreakable and Split. You know who else is excited? Glass star Samuel L. Jackson. In a new interview with Collider, Jackson talked-up the upcoming film and showered praise on the performance of James McAvoy. McAvoy returns as his Split character Kevin Wendell Crumb, a disturbed individual with 23 different personalities, including one big bad personality known as The Beast. McAvoy's work in Split was exemplary, and according to Jackson, that continues into Glass. "Watching somebody, you know, transform characters in front of your eyes and have an argument with four different people is pretty, pretty amazing," the actor said. Glass, which also stars Bruce Willis and Anya Taylor?Joy, opens January 18. 2019.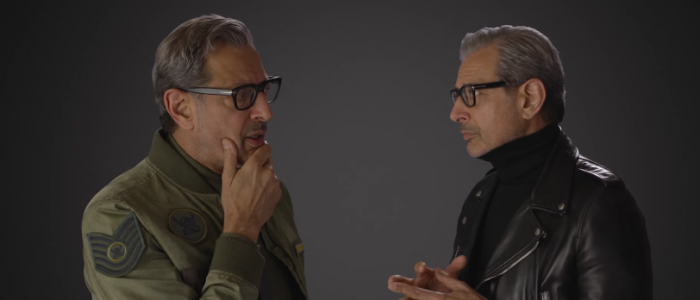 Jeff Goldblum never really went away, but the actor is experiencing a bit of a resurgence now. Modern filmmakers have discovered that if they simply point a camera at Goldblum and let him do his thing, their movies will significantly improve. Goldblum has a small part in the upcoming Jurassic World: Fallen Kingdom, and that's not the only franchise he's willing to return to. In an interview with Bloody Disgusting, Goldblum also said he'd be down to do another Fly movie. Goldblum starred in David Cronenberg's fantastic, disgusting 1986 remake of The Fly...but he also died in the film.
Goldblum says his character's death isn't an issue, adding: "Maybe I show up as a grandchild of the original Seth Brundle, or Seth Brundle had a brother. Had a brother that emerges in some ways! Who knows, I don't know, but David Cronenberg was a thrill to work with. Boy, if he was involved I'd like to work with him again, I'll tell you that." Based on this, it sounds like Goldblum would only really return if Cronenberg were involved...which isn't likely. So we'll just have to chalk this one up to wishful thinking. Goldblum also weighed-in on whether or not he'd return to the MCU as the Grandmaster, his character from Thor: Ragnarok:
"Well, I'd love to...That character, if you look at all those decades of Marvel comics, is immortal along with his brother The Collector. I think I had a game with Death once, won both our immortality and he has more superpowers than anybody so he could do a lot more interesting, entertaining things. I know he's been satisfying himself with having games. He loves games and he's the best at games but he can do a lot of things. I love Kevin Feige and Victoria Alonso, the people at Marvel. They're spectacular to work with. They're brilliant and lovely."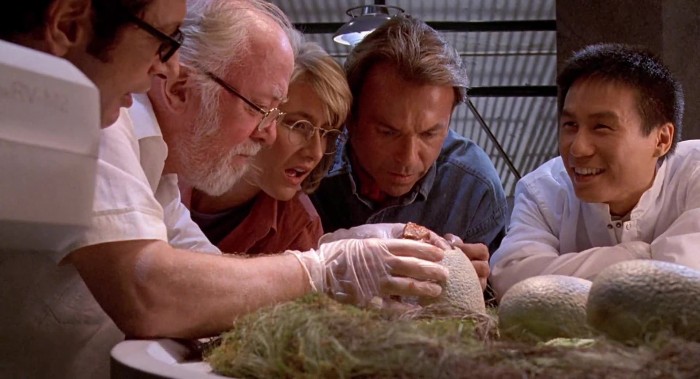 When we first met B.D. Wong's character Dr. Henry Wu in Jurassic Park, he seemed like a pretty nice guy. But when Wu returned for Jurassic World, the character had transformed into someone borderline villainous. That characterization continues on into Jurassic World: Fallen Kingdom, but Wong says calling Dr. Wu a "villain" is too simplistic. In an interview with THR, Wong goes to bat for Dr. Wu, saying the character's motivations – however flaws – are rooted in his love for science:
"I think it's kind of reductive or simplistic to call him a villain, but I think he definitely does make some choices that are extremely controversial. I do think he's motivated by his love for science and his own ego, which is well supported by his massive achievements. He's really kind of a genius and he really is responsible for this alleged technology creating these creatures. I think he turns a blind eye to the human suffering that comes as a result because he thinks he's looking at some bigger picture. I think that's his Achilles heel and it will remain to be seen if he can overcome that. He's painted into quite a corner in Fallen Kingdom — it will be interesting to see how people react to that."
We all knew another Jumanji film was on the way, especially after Jumanji: Welcome to the Jungle made all the money at the box office. Now, Welcome to the Jungle star Dwayne "The Rock" Johnson has confirmed via Instagram that planning is officially underway for the third entry in the franchise. Johnson talks up a "dynamic pitch" from writer/director Jake Kasdan, and adds that the new film will have "heart." Johnson also jokes (?) that Kevin Hart's character dies in the first 15 seconds of the movie, so spoiler alert. Jumanji: Welcome to the Jungle was a surprisingly funny film, so I look forward to see where the franchise goes from here.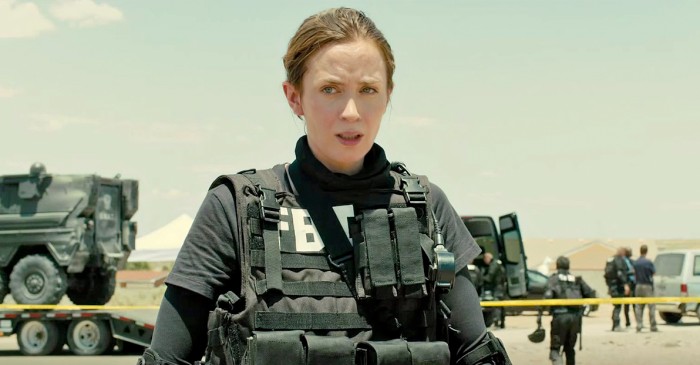 I was disappointed when I learned that Emily Blunt would not be returning for the Sicario sequel Sicario: Day of the Soldado. While Blunt won't be seen in the sequel hitting theaters at the end of the month, she might be back for Sicario 3, if and when that happens. Speaking with CinemaBlend, Sicario producer Trent Luckinbill says he hopes to have Blunt come back to close-out the trilogy:
"Sure. Yeah. Absolutely. I think [writer] Taylor [Sheridan] certainly has some ideas about all of that, but we're open to that world and certainly would love to bring Emily back. We haven't written the script yet, but yeah it would make a lot of sense. We're all fans of the movie, we've all come to the same conclusion, which is 'It would be great to see her again.' So I think we're striking up those conversations now."
Day one. #PetSematary pic.twitter.com/dfBAuW95xo

— Dennis Widmyer (@denniswidmyer) June 18, 2018
The Pet Sematary remake has begun production, and I couldn't be more excited (hit me up with a set visit, Paramount). The film, adapted from Stephen King's terrifying novel, concerns a doctor (played in the new film by Jason Clarke) who moves his wife (Amy Seimetz), kids, and cat, to a house in rural Maine. As bad luck would have it, there's a cursed burial ground hidden in the woods behind the house. A burial ground that has the power to raise the dead. John Lithgow co-stars as the helpful neighbor who introduces Clarke's character to the burial ground – an act that sets off a chain reaction of really bad, scary stuff. King's novel was previously adapted into a pretty good 1989 film, but I'm extremely hyped for this new take on the material, from Starry Eyes directors Kevin Kolsch and Dennis Widmyer. Pet Sematary opens April 5, 2019.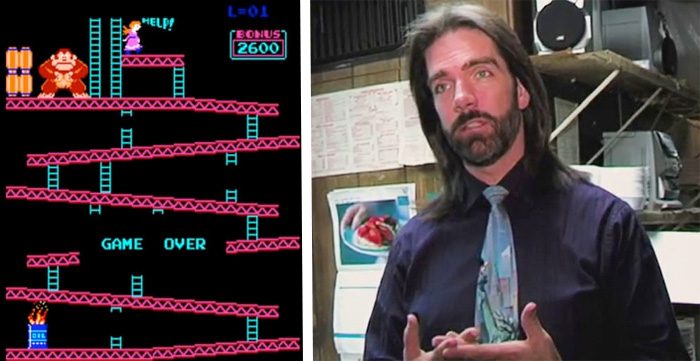 Billy Mitchell, the "villain" of the entertaining documentary The King of Kong: A Fistful of Quarters, was recently stripped of his Donkey Kong world record score due to accusations of cheating. Mitchell denied any wrongdoing. Recently, he appeared at the Southern-Fried Gaming Expo (via Variety) and attempted to set the record straight. It didn't go very well.
Per Variety's profile, Mitchell spent most of the event denouncing his naysayers and throwing the press under the bus – ""I don't believe in journalism!" he said at one point. As the Variety story points out, at one point, Mitchell launched into "a story involving the FBI, his teenage son, pornographic material, and a mysterious ten-year-old girl. The same backroom cabal who, he says, orchestrated his downfall has been following the trail of his college-bound student-athlete son as he visits schools. Someone would email the coach after his son's visit and suggest they don't sign him, since his father associates with pedophiles...'Come after me,' he says, choking up. 'But don't come after my family.'" Head over to Variety to read the full, wild story.