MoviePass Claims They Accounted For 40% Of Ticket Sales To The Critically Savaged 'Gotti'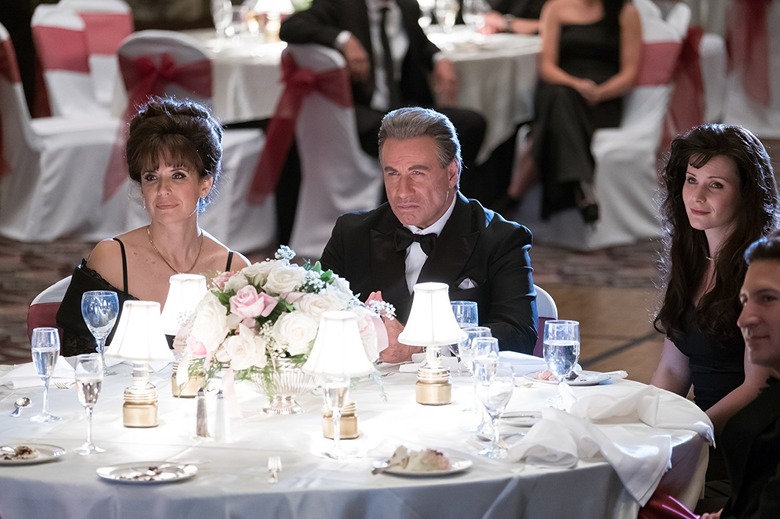 MoviePass's business strategy continues to confound all of us. The ticket-buying service's sustainability has always been in question since it dropped its prices to the popular $10 a month, but MoviePass was not content to simply disrupt the moviegoing industry. It had to get behind the scenes as well. Cue the perplexing venture into distribution, of which MoviePass has seen some success and some failures. And the one big, public failure with the meager box office returns of Gotti, in particular, maybe even worse for MoviePass than we realized.
The service went into the distribution business early this year, co-acquiring films at film festivals including American Animals at Sundance and John Travolta's long-gestating Gotti biopic at Cinemacon. While American Animals saw exciting success at the independent box office, scoring one of the highest per screen averages of the year with a $135K opening weekend, the critically slaughtered Gotti was another story.
Deadline reports that MoviePass accounted for 40% of Gotti's ticket sales. The ticket-buying service heavily marketed the movie to its subscribers, a strategy that the company has touted before in its press releases boasting of its influence. But an independent studio boss suspected that MoviePass did more than send out subscriber emails — the company may have inflated its own numbers. The indie boss told the outlet:
"It used to be in distribution, we'd all gossip whether a studio was buying tickets to their own movie to goose their opening. But in the case of MoviePass, there's no secret: They're literally buying the tickets to their own movie!"
However, another independent studio boss says that the 40% share is "totally unverifiable."
But that's not so bad for MoviePass, right? So far, the MoviePass experiment of distribution has had a 50/50 success rate. But if you add that 40% on top of the money the company spent on acquiring Gotti, MoviePass's losses more than double. Pajiba notes that 40% of ticket sales would amount to about $668,000. Though we don't know the exact numbers of MoviePass's initial distribution deal for Gotti, Pajiba estimates that MoviePass could have lost up to $3 million on the film.
MoviePass took a low-seven-figure stake in the reported $10M budgeted feature when it screened at Cinemacon this year. Not only that, MoviePass acquired Gotti's production company Emmett Furla Oasis Films in yet another radical venture into movie production. It was either a massive vote of confidence in the movie or just another mystical part of MoviePass's strange business strategy.
It seems like that confidence may have been unearned. Gotti was slaughtered by critics, earning the biopic the rare 0% on Rotten Tomatoes, and ultimately flopped at the box office with a $1.6 million opening weekend haul.