Netflix Has Rescued 'Lucifer' After Fox's Cancellation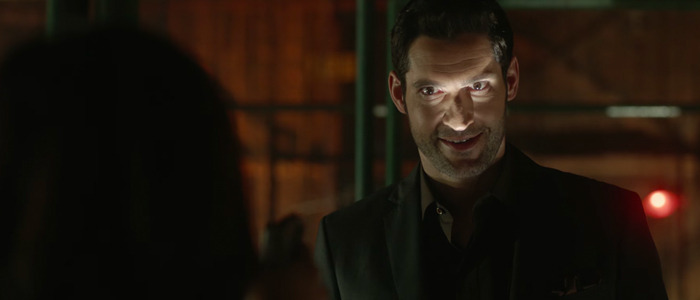 Last month, Fox cancelled the supernatural drama Lucifer after three seasons. But a vocal fan campaign using the hashtag #SaveLucifer seems to have worked, because Netflix has officially snatched the DC Entertainment series from the jaws of oblivion and will produce a fourth season. Read more about the Lucifer Netflix deal below.
Based on a DC comic, Lucifer "focuses on Lucifer Morningstar, the Devil, who is bored and unhappy as the Lord of Hell. He resigns his throne and abandons his kingdom for Los Angeles, where he ends up running his nightclub 'Lux'. He becomes involved in a murder case with Detective Chloe Decker, and is subsequently invited to be a consultant to the LAPD."
Like Brooklyn Nine-Nine before it, Lucifer was once thought to be banished to cancellation hell but has been triumphantly rescued. Deadline reports that producers at Warner Bros. TV began shopping the series around to streaming platforms and premium cable outlets when fans reacted loudly to Fox's decision to cancel the show. Amazon apparently showed interest, but Netflix ended up coming out on top: Lucifer will officially become a Netflix original production in its fourth season.
Fans, your voices have been heard. Season 4 coming to Netflix!!! 😈

— Lucifer (@LuciferNetflix) June 15, 2018
This resurrection comes right in the nick of time, because the options on the show's cast members were just about to expire. The deal was reportedly complicated to figure out since Hulu owned the streaming rights to the first three seasons, and more platforms held rights elsewhere in the world. (Rights to stream the first three seasons are now owned by Netflix.) Deadline says they're now expecting Lucifer to come to Netflix in the UK "as the streaming company tries to clear the series in as many territories as it can."
The show wasn't a huge ratings hit, but after a ho-hum first season, the show apparently picked up steam creatively as it went along. Season three ended on a huge cliffhanger that was meant to convince Fox to pick them up for a fourth season; Fox didn't budge, but Netflix's algorithm must have determined it was worth saving. Showrunner Joe Henderson and star Tom Ellis took to Twitter to express their thanks:
Thank you thank you THANK YOU to all the #Lucifer fans. You brought us back. YOU did this. So relax, take a breath, put some ice on those fingers that have been hashtagging up a storm... and get ready for more deviltime 😈

— Joe Henderson (@Henderson_Joe) June 15, 2018
#LuciferSeason4 on @Netflix wow that sounds nice. You fans made this happen. #LuciFansrock #Lucifersaved ✊😈

— tom ellis (@tomellis17) June 15, 2018
Good work, Lucifer fans. This seems like one of the rare cases in which a vocal fan response actually worked in bringing a show back from the dead.