New 'Aquaman' Image And Details: Rival Atlantean Armies Face Off While Riding Sharks And Sea Dragons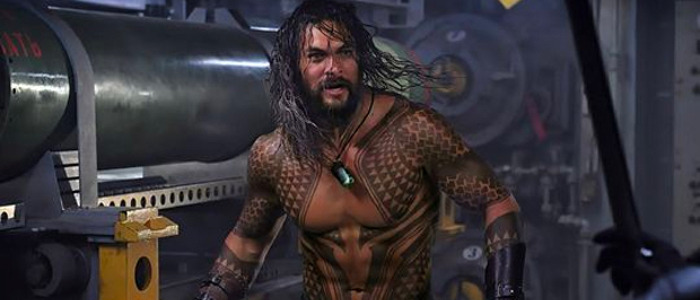 There's more to Atlantis than meets the eye. A new Aquaman image reveals that the glorious, underwater kingdom is not the shining city on top of a coral reef that mythology would have you believe. Instead, the Atlantis in Aquaman seems to be subject to the same rival rulers and political turmoil that have plagued human history — just with more great white sharks and sea dragons. Which, to be honest, is infinitely cooler than the lame horses that human warriors have been saddled with.
Entertainment Weekly debuted a new image from James Wan's Aquaman, revealing sharks! Sea horses! And...not much else. While the image may seem underwhelming, there are many fascinating new details and tidbits that this image of an ancient Atlantean meeting place unveils.
New Aquaman Image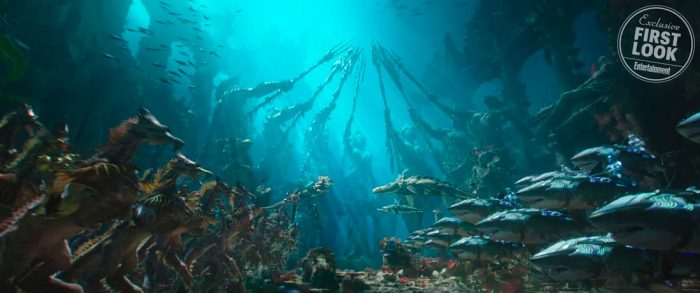 Shown here in the new Aquaman image is an ancient meeting place called The Council of the Kings. Located on the outskirts of Atlantis, this ancient meeting place has fallen to ruin, but now seems to be occupied for the first time in a long time. Not by one king of Atlantis but by two — King Orm (Patrick Wilson) and King Nereus (Dolph Lundgren) vying for control of the seas.
EW reveals some very cool details about this image:
Atlantis Split into Seven Kingdoms
When Atlantis sank into the ocean, it split in Seven Kingdoms. Each of the statues holding tridents in the background represent each of the original seven kings.
Aquaman seems to be building a complex and intricate mythology for the film by introducing rival kingdoms that make up the current Atlantis. It all feels very Game of Thrones (the Seven Kingdoms nod most of all), which is smart, as long as Aquaman doesn't buckle under the political intrigue. Setting a superhero story against a politically turmoiled backdrop worked great for Black Panther, and I could see Aquaman going the same route.
King Orm's Army Rides Great White Sharks, King Nereus' Army Rides Sea Dragons
On the right, King Orm leads his Atlantean army astride great white sharks. It's an image that producer Peter Safran is proud of, telling EW, "When you see these Atlantean army riding these sharks, it's so photo-real it blows you away." You can also see Williem Dafoe's Vulko with his man bun while riding a black hammerhead shark. Meanwhile, on the left and looking ready for battle is King Nereus from the kingdom of Xebel. His men ride sea dragons — which are a twist off the goofy seahorse that Aquaman rides in the original Super Friends cartoon, Safran revealed.
Sharks and sea dragons! This is a veritable West Side Story spin-off! This movie sounds positively nutso, and I'm all for it. If Wan can balance the political intrigue with the insane imagery of people riding sharks, then Aquaman could have the potential to be the DCEU's next good movie.
Aquaman stars Jason Momoa, Amber Heard, Willem Dafoe, Temuera Morrison, Dolph Lundgren, Yahya Abdul-Mateen II, Patrick Wilson and Nicole Kidman. The comic book movie dives into theaters on December 21, 2018.