Of Course Tom Holland Is The One Who Spoiled 'Jurassic World: Fallen Kingdom' For Chris Pratt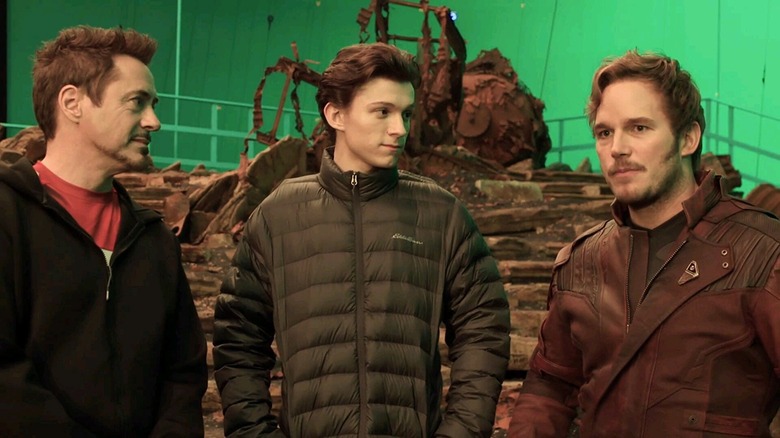 Spoiler machine Tom Holland continues his reign of terror by spoiling films he's not even starring in — to the star of said film himself. That's right, Chris Pratt somehow had Jurassic World: Fallen Kingdom spoiled for him by Holland, which is a feat in and of itself since the young Spider-Man star doesn't appear in any of the Jurassic Park or Jurassic World films. But life, as they say it...finds a way.
Tom Holland has become notorious for being unable to keep a damn secret. It's why Marvel has stopped giving him the full scripts to his movies, and why he was paired with the tight-lipped Benedict Cumberbatch during the Avengers: Infinity War press tour. (If you want to be entertained for a solid 30 seconds, watch this compilation of every time Cumberbatch had to stop Holland from spoiling Infinity War.)
But Holland has now moved on from spoiling his own movies to spoiling movies that he doesn't appear in. And poor Chris Pratt received the brunt of it while minding his own business shooting Guardians of the Galaxy Vol. 2. He was just unlucky enough to be shooting on the same lot where Holland was shooting Spider-Man: Homecoming.
Pratt told Entertainment Weekly during their radio show on Sirius XM, that it was Holland's friendship with Fallen Kingdom director J.A. Bayona (who directed Holland in 2012's The Impossible) that led to Pratt being spoiled (via Uproxx):
The first I heard about the plot was from Tom Holland, weirdly. I think I was shooting the sequel for Guardians of the Galaxy, maybe, and Tom was doing Spider-Man on the same lot... He said, 'Hey mate, I just talked to J.A., mate, he told me the whole plot of the story,' and I was like, 'What?' He said, 'Yeah, there's like a volcano,' and I said, 'You're messing with me.' He's like, 'No, mate, he told me the whole thing.' So he told me the whole story, so I heard it right from Tom Holland first. And then, when I read the script, I was like, he wasn't messing with me. It was all real.
Holland just can't be contained! What do we do! The only option is to lock him in a vacuum-sealed box until the Spider-Man: Homecoming sequel comes about. Or maybe we need to permanently stick him with  Benedict Cumberbatch, who can randomly tackle Holland when he's about to spoil, well, anything.
You can watch the full interview with Chris Pratt here:
Jurassic World: Fallen Kingdom opens in theaters on June 22, 2018.