New 'Aquaman' Images Are Chock Full Of Patrick Wilson's Man Bun, More Shirtless Jason Momoa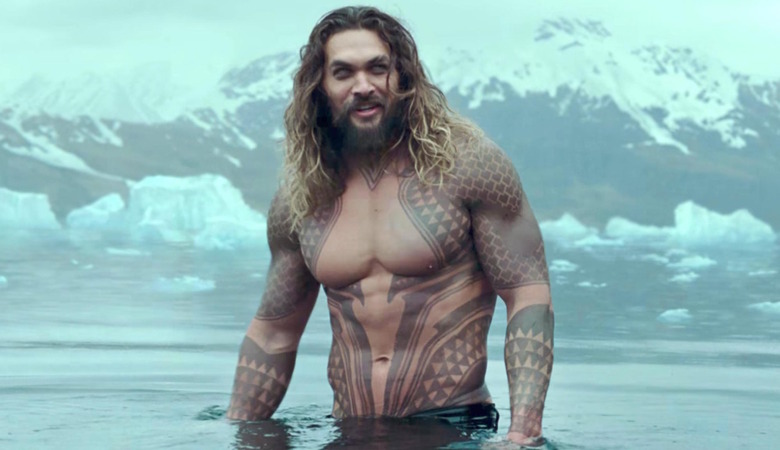 Yeah-yuh! Our favorite superpowered bro is back, with an all-new set of images on top of the ones that just debuted earlier today. A new collection of Aquaman images gives us an exciting peek under the sea at daily life in Atlantis, as well as, of course, more shots of shirtless Jason Momoa. Warner Bros. knows what we wants, and delivers it on a gold, seafood-laden platter.Entertainment Weekly has debuted new images from the upcoming Warner Bros. movie Aquaman, which arrive on the heels of the super-soaked cover photo featuring a first look at Nicole Kidman as Queen Alanna. Now, a new typhoon of images will make you even more excited for the next DCEU film.
Aquaman Images
It seems that man-buns (or half ponytails) are the order of the day in Atlantis. Although Aquaman can let his flowing locks hang as free as he wants as the heir to the throne, it looks like every other male Atlantean needs to be pinned up and man-bunned. Just look at Patrick Wilson's Ocean Master, Aquaman's evil and greedy brother. Look at his hair!
Meanwhile, Mera (Amber Heard) has an even more striking shade of red hair than the underwater shots would allow us to see. On the dry surface, Mera may be a confused fish out of water, but at least her hair looks stunning and moisturized.
These are just a few of the images that EW debuted in their gallery of Aquaman photos. You can see the rest here (spoiler: there's an image of Willem Dafoe rocking his own man-bun).
This is all just fish food until the inevitable trailer hits very soon. But it does make me more excited to se this film, especially with the bold costume and hair choices. Yes, it was Patrick Wilson's man-bun that swayed me.
Aquaman stars Jason Momoa, Amber Heard, Willem Dafoe, Temuera Morrison, Dolph Lundgren, Yahya Abdul-Mateen II, Patrick Wilson and Nicole Kidman. The comic book movie dives into theaters on December 21, 2018.