'Ant-Man And The Wasp' Box Office Tracking Predicts A $75 Million Opening Weekend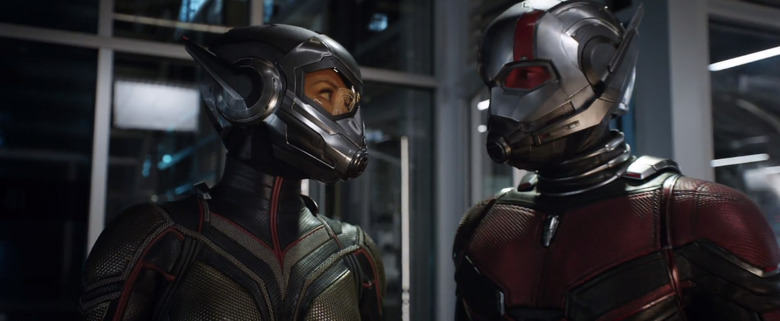 Marvel Studios is still riding high off Avengers: Infinity War, a movie that set a new record for having the highest-grossing opening weekend of all time and just cracked the $2 billion mark at the worldwide box office. Their next film, Ant-Man and the Wasp, won't come close to that number – but early predictions suggest director Peyton Reed's upcoming sequel could open much higher than the first Ant-Man.
Ant-Man and the Wasp Box Office Projections
The Hollywood Reporter has relayed some early tracking numbers for Marvel's next sequel, claiming it is eyeing a $75 million opening weekend. Meanwhile, Deadline says the projections they've seen range from $69 million to $80 million. Either way, the first film opened at $57.2 million in the summer of 2015, so if these predictions hold true, Ant-Man and the Wasp will open significantly higher than its predecessor. Even $80 million would be a far cry from Infinity War totals, but no one is expecting this movie to perform on the level of that blockbuster juggernaut. That's the benefit of low expectations – even if this movie doesn't clear $69 million in its opening weekend, people will just shrug and move on to the next one. This isn't like Solo: A Star Wars Story, where the ballooning budget meant that they needed huge returns to cover themselves. This is an Ant-Man sequel, and the first one marked Marvel Studios' second-lowest opening weekend behind The Incredible Hulk.
We're now under a month away from Ant-Man and the Wasp flying into theaters, but these numbers could still change as the release gets closer and Disney starts spending more on TV ads, which are the real bread and butter for marketing departments looking to make sure butts are in seats during opening weekend. Still, the big question is how much audiences will want to see a film like this in the wake of Infinity War's gut-punch ending. Will people be content with the lighter antics of the Ant-Man world, set in the aftermath of Captain America: Civil War, when lives are hanging in the balance further down the timeline?
Returning actors Paul Rudd, Evangeline Lilly, Michael Douglas, Michael Pena, T.I, David Dastmalchian, Judy Greer, and Bobby Cannavale will be joined this time by Michelle Pfieffer, Hannah John-Kamen, Laurence Fishburne, Walton Goggins, and Randall Park. We'll have much more about this superhero sequel on /Film very soon, so stay tuned.
Ant-Man and the Wasp hits theaters on July 6, 2018.