'The Handmaid's Tale' Finally Has Its Me Too Moment In "Smart Power"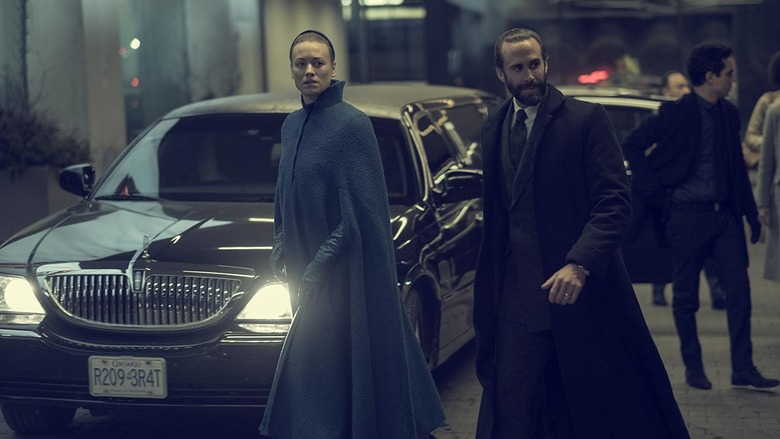 (We're going to kickstart our weekly The Handmaid's Tale review by answering one simple question: Who suffered the most?)
A grenade went off in Gilead, and we waited for something to change. And waited. But The Handmaid's Tale loves the status quo too much, and everything sprung back into place — except in the smaller, quieter moments of rebellion among the women in crisis. But this week in "Smart Power," a new grenade was launched, in the form of anonymous letters that first appeared all the way back in Season 1. And this time, something may explode.
Who Suffered the Most? The Canada Roommates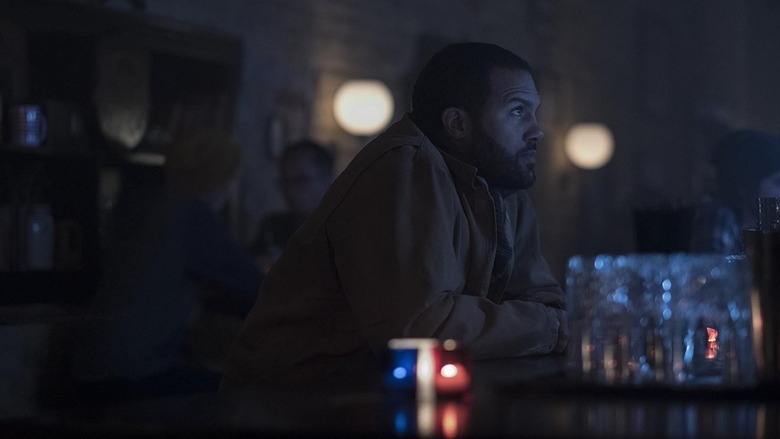 Moira (Samira Wiley), Luke (O.T. Fagbenle), and their roommate Erin (a former Handmaid played by Erin Way who had escaped Gilead alongside Luke) haven't had much to do other than twiddle their thumbs and react to the horrific events in Gilead. But with the Waterfords arriving as part of a diplomatic envoy to Canada, they are galvanized into action.
Remember when I bemoaned Moira's lack of an arc early in the season — then bemoaned her expedited backstory with a fiancee we barely got to know? Finally, Moira gets her moment. Not only that, Moira gets her Me Too moment. It's a strange thing to say that a show that is all about the ritualistic rape of women hasn't had its moment of reckoning with the very themes of the show, but it didn't really happen until Moira wrestled with her fear of seeing Fred Waterford (Joseph Fiennes) arrive in Canada and finally stood in front of him with a sign stating, "My name is Moira." "Not Ruby," she mutters, referring to her time at Jezebel's as Fred is ushered away from the protesters, visibly shaken for the first time. It's the painful, much-needed catharsis that Moira and this show needed — a Gileadan man in power brought to his knees for the first time as a consequence of his actions. It was short-lived, but it felt like a real triumph.
Their biggest triumph, however, comes after Nick finds Luke at a bar and relays all the news about June's well-being and pregnancy, to Luke's relief and horror. When he hands Luke the bundle of letters that June smuggled out of Jezebel's, Erin realizes that this could be their grenade — and it in a way it is. It is the catalyst that spreads the words of anonymous women in Gilead to the rest of the world, and makes the Waterfords unwelcome guests. The Canadian ambassador's assertion, "We believe the women," is the perfect cherry on top of this episode's Me Too milkshake.
But I put the Canada trio as our "sufferers" for the week, because their victories came after a long slog through the utter pain and misery of not knowing. Not knowing whether Gilead can be brought down, whether they'll see June again, or whether they'll live and die in Little America without seeing the end of Gilead's regime. Even when they triumphantly sing a quiet rendition of "America the Beautiful" at Moira's party (in a clear nod to Casablanca's "La Marseillaise" scene), Moira in tears, it's too much for Luke to bear while he knows that a pregnant June is still trapped in Gilead.
Sympathy for Lady Serena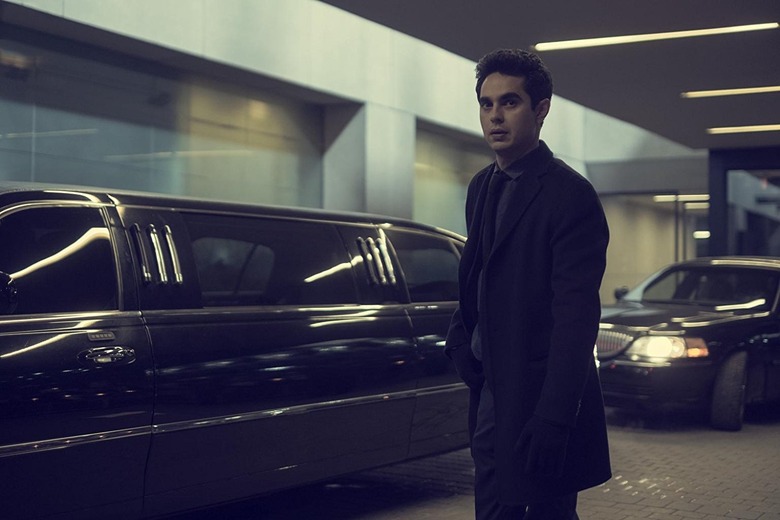 Our uneasy sympathy for Serena only grows in this episode. But interestingly, Serena seems to be the one actively trying to dissolve that sympathy. Following a slightly tender reunion that Serena and June have before she leaves for Canada, Serena abruptly dismisses June after the baby is born, coldly telling her, "I think we've had more than enough of each other."
But we can't help feeling pangs of pity every time Serena recoils from Fred's touch, or holds back tears every time she's reminded of the cruelty of the regime she helped create. I even felt a little compassion for her when she happily stares out the window of their car passing through Canadian streets, Yvonne Strahovski's trembling eyes transfixed by the free pedestrians. Strahovski is brilliant once again here, uncertain and timid for perhaps the first time, but still giving an undercurrent of steeliness to remind us of the complicit woman she truly is.
A man working for one of the splintered U.S. republics strikes just when Serena is at her most vulnerable. At a bar, Serena is flirted with, then given a chance for freedom by the American emissary Mark (Sam Jaeger). Working out of Hawaii, he tries to reason with Serena by presenting new scientific research about the fertility crisis and offering her immunity, but she only takes his card and matchbox, which she later tosses in the fire.
Dear Godmother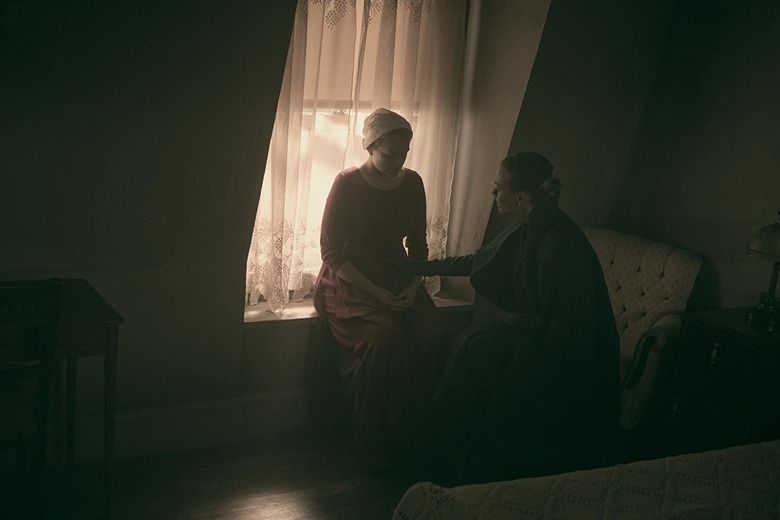 Back in Gilead, June is at the end of her rope. Under the watchful eye of a cruel young Guardian named Isaac and with her impending separation from her baby even closer, June decides to do her best as "a lady in reduced circumstances": turn to the few friends she has.
She pleads with Rita and then with Aunt Lydia to protect her baby, trying to awaken their sympathy by naming them unofficial godmothers to her child. But while Rita balks in fear of Isaac, Lydia surprisingly shows an ounce of vulnerabilty. But then again, Ann Dowd never ceases to surprise me as the volatile, matronly Lydia, as maternal as she is malicious. And here again, The Handmaid's Tale doubles down on adding nuances to its complicit women, pivoting away from overtly villainizing them as it has done for the past two seasons. It's an unsettling feeling to feel compassion for these women, but Dowd and Strahovski both sell it wholeheartedly. I wonder if it's because the show is shaping Fred to become more of an outright villain, but I hope that neither Lydia nor Serena are wholly forgiven for everything they've done. Lydia's last line to June before she leaves — "It wasn't my fault" — speaks volumes to how she knows how we perceive her — and maybe she does care a little.
But June is given new hope when Nick waltzes into her room upon his return from Canada and informs her that Luke and Moira are both alive and living together. She is too ecstatic to notice how conflicted he is — and hilariously, doesn't even seem to hear when he tells her he loves her — and it gives her a renewed ambition to escape. This show sure does love ending its episodes on punchy lines. Let's hope June's declaration of, "I know I should accept the reality of you being born here... well fuck that," lives up to its promise.
Tale Tidbits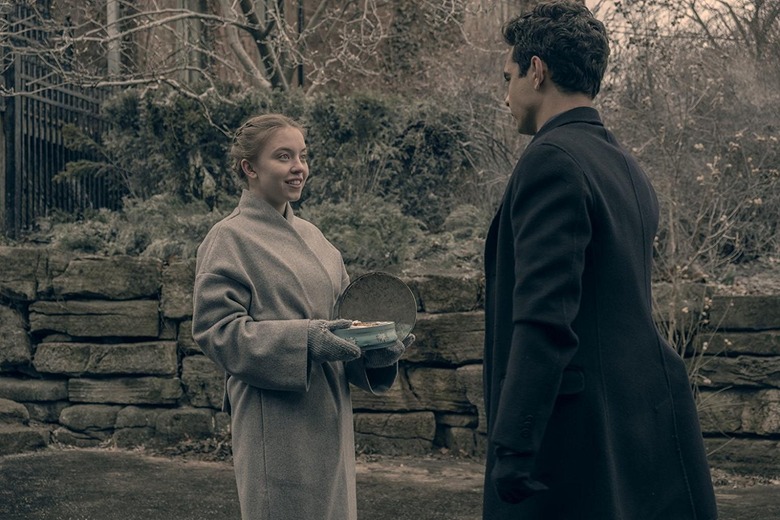 Isaac seems besotted by Eden, or at least by her strawberries. Is this another addition to the increasingly ludicrous love triangle?
"I enjoyed my visit the last time I was in Boston. With my husband." Nice shade, Canadian diplomat No. 3.
"That's misinformation." Fred might as well scream "fake news."
It's a little strange that Serena, high-ranking woman from a totalitarian government, would be allowed to wander a foreign hotel (and order a Riesling at the bar, no less!) completely on her own, but eh, the show needed a little leeway to advance the narrative.
The subtle, organic bits of world-building have been the best parts of season 2 so far. Just how many splintered American governments residing outside of Gilead are there?