'Incredibles 2' Box Office Tracking Suggests A New Record For Animated Films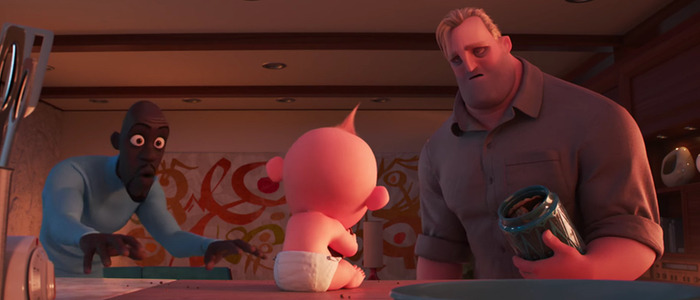 Disney ended up being burned by some early box office predictions for Solo: A Star Wars Story, but I have a feeling the Mouse House isn't going to encounter those same problems with Incredibles 2 when the superhero sequel hits theaters later this week. New Incredibles 2 tracking indicates that the long-awaited movie could break the record for the highest-grossing domestic opening weekend of all time for an animated film. Keep reading to find out how much the new movie is expected to pull in this weekend.
Incredibles 2 Tracking Numbers
Deadline reports that while some tracking services are betting Incredibles 2 will earn around $125 million at the domestic box office this weekend, rivals of Disney/Pixar are banking on it actually performing somewhere in the range of $135-150 million. If it hits that threshold, that would mean Pixar could tie or even break its own record. Finding Dory's $135 million opening weekend is currently the highest of any animated film, Pixar or otherwise.
Box office predictions can often fluctuate as the experts try to factor in audiences' overall awareness of a movie, since studios traditionally spend more on TV ads leading up to the release date. The earliest predictions for Incredibles 2 suggested a far lower $110 million opening weekend domestically, but at the end of last month, those predictions ticked all the way up to around $140 million. Not long after that, the film was on track to become the biggest animated pre-seller of all time. So it's not surprising that the film is shaping up to be a huge financial windfall for the studio, and it certainly looks like it'll be a much-needed boost for writer/director Brad Bird, who is returning to animation after stumbling a bit with 2015's Tomorrowland.
Everyone's favorite family of superheroes is back in "Incredibles 2" – but this time Helen (voice of Holly Hunter) is in the spotlight, leaving Bob (voice of Craig T. Nelson) at home with Violet (voice of Sarah Vowell) and Dash (voice of Huck Milner) to navigate the day-to-day heroics of "normal" life. It's a tough transition for everyone, made tougher by the fact that the family is still unaware of baby Jack-Jack's emerging superpowers. When a new villain hatches a brilliant and dangerous plot, the family and Frozone (voice of Samuel L. Jackson) must find a way to work together again – which is easier said than done, even when they're all Incredible.
Incredibles 2 hits theaters on June 15, 2018.