Jordan Peele Reportedly Wants To Direct A 'Gargoyles' Movie At Disney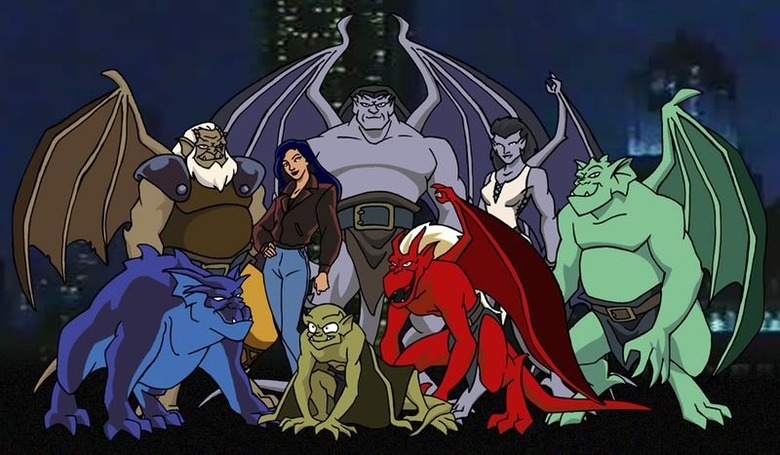 In the mid-1990s, Walt Disney Television produced an animated series called Gargoyles about a group of creatures that were turned to stone during the day but protected New York City by night. A stylistic successor to Batman: The Animated Series, the show featured darker storylines than were typically found in animation of that era and gained a cult following. Its small but loyal fan base has been clamoring for a movie version for years, and now it appears that one of Hollywood's hottest directors wants to direct one.
A new report says Jordan Peele, who won an Oscar for writing last year's cultural phenomenon Get Out, has actually pitched a new movie take on the animated series to Disney. Read more about the possible Jordan Peele Gargoyles movie below.
In today's edition of the entertainment industry newsletter The Ankler, writer Richard Rushfield reports that Peele "walk[ed] in and says he wants to do a new version of Gargoyles." But instead of green lighting it or turning it down outright, Disney is apparently sitting on its hands.
"How do you turn down Jordan Peele? Well, you can't. Who wants to be responsible for that decision? So in the absence of a good reason to say no, but prevented by their Big IP box from saying yes, Disney is slow walking the decision. It's hoping, it seems, that they'll run out the clock, he'll sign other deals elsewhere, and the project will just fade away."
Rushfield suggests that because Peele's take on Gargoyles doesn't fit neatly within Disney's branded silos (live-action fairy tale, Star Wars, Pixar, Marvel), the studio sees it as too much of a risk. He characterizes the company's lack of decisiveness as being based on the paralyzing fear of not wanting to turn down a project that may turn out to be a great idea. Instead of turn it down, he says, they'll just play a waiting game with Peele and patiently sit there until he moves on to something else.
I'm torn on this one because I watched Gargoyles and appreciated it when I was younger, but it didn't have a lasting impact on me that Batman: The Animated Series did. (The shows shared some of the same creative team.) Part of me wants this project to fade away so Peele can work on more original movies, but I am admittedly intrigued to see what he would do with a movie version of this concept. On paper, the premise sounds a little like the Teenage Mutant Ninja Turtles – a living clan of gargoyles are led by a character named Goliath, and a sympathetic female cop helps them fight bad guys. It's not like a film version of this type of story would be unprecedented, and seeing what a filmmaker as gifted and thoughtful as Peele might do with commentary about these creatures who are "other-ized" and yet still protect their community could be fascinating. But then again, the name recognition of this show may not be enough for Disney to give this the budget it might need.
In case Disney never moves forward with a Gargoyles movie, this fan film we wrote about not too long ago will have to scratch that itch for all the fans out there:
Update: Header image credit goes to Twitter user @ISnowNothin. It was such good fan art that I thought it was from the actual show!