'Avengers: Infinity War' Box Office Hits $2 Billion Worldwide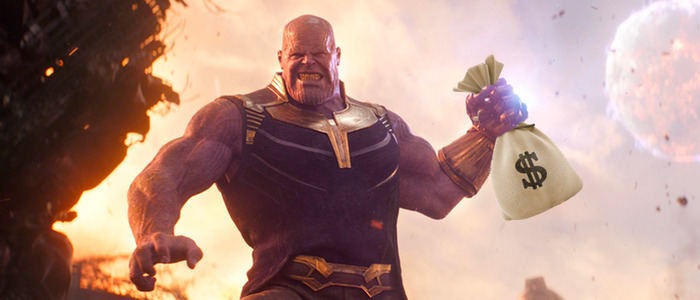 Have you heard of this Avengers: Infinity War movie? Apparently it's pretty big. Bigger than sliced bread, even. In fact, the Infinity War box office haul is so big that it just hit $2 billion worldwide. This makes Infinity War the fourth film in movie history to earn such a distinction.
Disney might be a little unhappy with the lackluster Solo box office, but Infinity War's whopping success should keep them happy. As of the writing of this story, Infinity War has grossed $2 billion worldwide. Infinity War is now the fourth film to walk away with such a haul, joining these three other films:
Star Wars: The Force Awakens
Titanic
Avatar
Infinity War is the third film to hit $2 billion in its initial run and the second Disney film to do so. And that's not all –domestically, Infinity War is the fifth highest grossing film of all time with $656.1 million. It also holds the record for biggest domestic debut, raking in $257.7 million during its opening weekend.
It's a bit interesting that this list of $2 billion movies now strictly belongs to either Disney films or films directed by James Cameron. Some other statistics (via Coming Soon), should you be interested:
It was the #1 film for three consecutive weeks and remains in the top five. Internationally, it is the third highest grossing release ever with $1.346 billion. Its domestic and international debuts over the April 27 weekend combined for a record-shattering global opening of $640.5 million even without China. The film opened to a massive $199.3 million in China two weeks after the global debut and has gone on to become the third biggest release ever in the country with $369.7 million to date.
Now we can all start speculating whether or not next year's Avengers 4 will top this. It's safe to assume that it will, but it was safe to assume that Solo was going to be a big box office hit as well...and it wasn't. That said, Avengers 4 has the distinction of being a direct continuation of Infinity War, which will likely draw in a crowd who want to see the Infinity War story concluded.
Avengers: Infinity War is now playing everywhere. Avengers 4 opens on May 3, 2019.
Iron Man, Thor, the Hulk and the rest of the Avengers unite to battle their most powerful enemy yet — the evil Thanos. On a mission to collect all six Infinity Stones, Thanos plans to use the artifacts to inflict his twisted will on reality. The fate of the planet and existence itself has never been more uncertain as everything the Avengers have fought for has led up to this moment.