MTV Is Rebooting 'Aeon Flux' As A Live-Action TV Series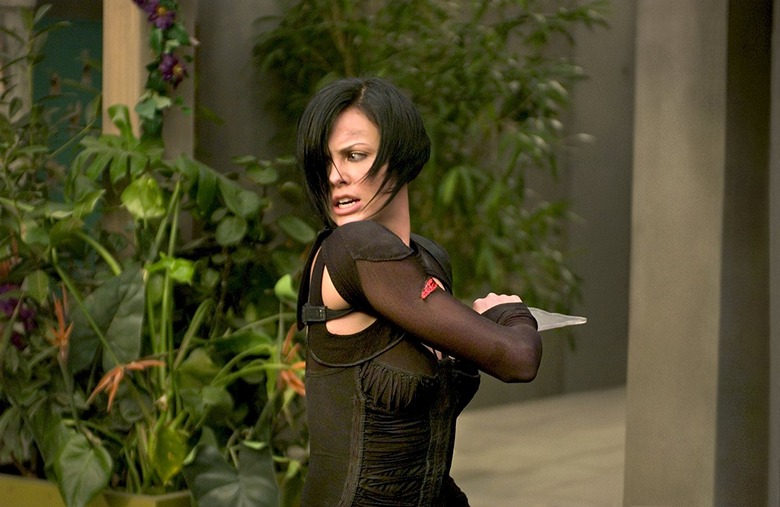 Aeon Flux is returning to its small-screen roots. The cult series first aired on MTV as an experimental animated series in 1991, and was later adapted into a 2005 feature film starring Charlize Theron. But after the critical and commercial disappointment of the big-screen Aeon Flux, MTV is having another go at it — this time, on its home turf.
MTV is developing a live-action reboot series of Aeon Flux, according to The Hollywood Reporter. Teen Wolf showrunner Jeff Davis is on board to pen the script and will executive produce alongside The Walking Dead's Gale Anne Hurd. Hurd produced the 2005 feature film, but was not involved with the original animated series.
This is the premise of the new live-action series, per THR:
The live-action series is set in a future dystopian state and revolves around a young assassin who teams with a group of biohacking rebels to save humanity as she becomes the hero known as Aeon Flux.
Aeon Flux is only one of the many MTV properties that the cable network plans to mine from its archives. Sources told THR that MTV is preparing to launch a studio that will further monetize its library as part of Viacom's push to revitalize its cable brands.
Created by animator Peter Chung, Aeon Flux was first introduced to the world in 1991 as an avant-garde six-part sequence of shorts that was featured in MTV's Liquid Television experimental animation series. The series grew a cult following, and returned to TV a year later with five short-form episodes and again in 1995 as a 10-episode half-hour animated series. This will be the first time Aeon Flux will be in live-action on the small screen.
The less said about the feature film Aeon Flux, the better. Produced by MTV Films and directed by Karyn Kusama, the film had an impressive cast that included Theron and Frances McDormand, but couldn't eke out either a critical or commercial victory. The movie has a miserable 9% on Rotten Tomatoes and couldn't even make back its $62 million budget at the box office.
Hopefully, this live-action TV series revival will have better luck. Jeff Davis saw huge success with his MTV reboot of Teen Wolf, which reworked the campy Michael J. Fox '80s feature film into a gritty and gory series with a sweeping mythology. The first few seasons of Teen Wolf were actually quite good, and set up the supernatural series to be this generation's answer to Buffy the Vampire Slayer. Perhaps Davis could bring his skill with balancing rich characters with the more unbelievable aspects of a fantasy series to Aeon Flux.