Bryan Singer Will Be The Credited Director On 'Bohemian Rhapsody'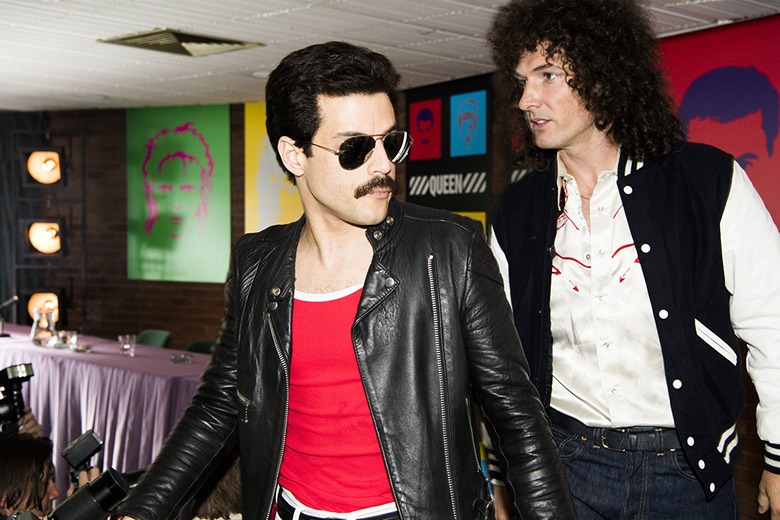 When the Bohemian Rhapsody trailer dropped, the internet couldn't help but notice that the trailer was missing one important thing: the director's name. Well, maybe two things. But regardless, it was a little odd to leave out the name of the director, especially when the trailer for the Queen/Freddie Mercury biopic proudly boasted that the film came "from 20th Century Fox and Regency Enterprises."
Could it be that there was some contention as to whose name should go on the billing after original director Bryan Singer left partway through production and was replaced by Dexter Fletcher? Perhaps at the time — but now those issues are resolved. Singer will reportedly retain his title as the director of Bohemian Rhapsody.
After a series of behind-the-scenes troubles resulted in Bryan Singer being fired from the set of Bohemian Rhapsody, Dexter Fletcher was hired by 20th Century Fox to finish the film with two weeks left of production. It was not quite the dramatic upheaval that Solo: A Star Wars Story saw after the replacement of Phil Lord and Chris Miller by Ron Howard, but it still left the issue of director credit up in the air. Would Bohemian Rhapsody go the way of Solo and hand credit over to Fletcher? Or would Singer retain his title despite his months of on-set conflicts, which included clashing with the actors and not showing up to set?
As revealed in the new issue of Empire Magazine (via Collider), it will be the latter. Producer Graham King explained Singer's exit in Empire, saying the filmmaker needed to deal with personal issues:
"Bryan Singer is the credited director of the film. Basically, Bryan had some personal issues going on. He wanted to hiatus the movie to deal with them, and the movie had to get finished. That was what it came down to... It wasn't about reinventing the wheel. We needed someone who would have some creative freedom, but work inside a box. [Fletcher] did us a real favor."
King says Fletcher shot about 16 days' worth of footage to finish the film. Fletcher himself had hinted as much in an Indiewire interview. "I didn't get into it for [the credit], I was just proud to be able to be a part of it and help complete what I think is a great film," Fletcher explained.
While 20th Century Fox's reasons for firing Singer boiled down to his behavior on set, King's vague references to Singer's personal issues likely have something to do with the sexual assault allegations that surfaced days after Singer exited the project. It's yet to be seen whether the association with Singer's name will affect Bohemian Rhapsody's reception, but we'll see come November.
Bohemian Rhapsody opens in theaters on November 2, 2018.
Singer Freddie Mercury, guitarist Brian May, drummer Roger Taylor and bass guitarist John Deacon take the music world by storm when they form the rock 'n' roll band Queen in 1970. Hit songs like "Killer Queen," "Bohemian Rhapsody, "We Are the Champions" and "We Will Rock You" become instant classics

. When Mercury's increasingly wild lifestyle starts to spiral out of control, Queen soon faces its greatest challenge yet — finding a way to keep the band together amid the success and excess.