Ethan Hawke Is Adapting 'The Good Lord Bird' For Blumhouse TV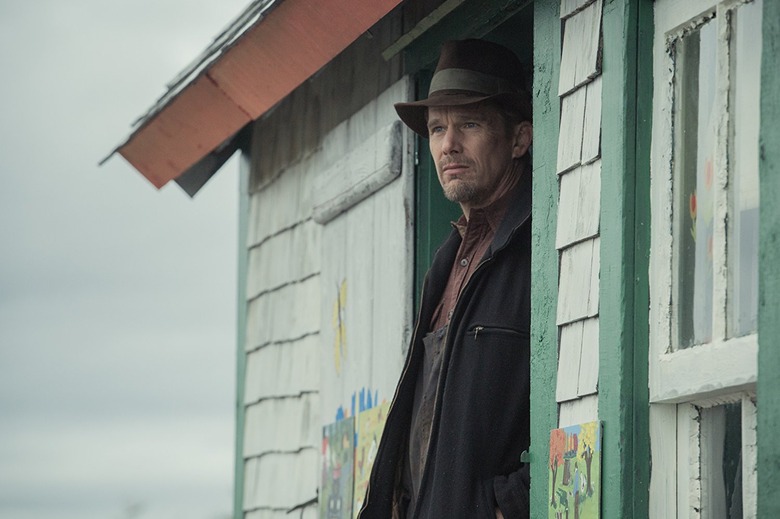 In the era of the flashy McConaissance and the Keanussance, second acts are all the rage in Hollywood. But while no one has dubbed Ethan Hawke one of these Renaissance Men, Hawke has been quietly building one of the most interesting second acts in Hollywood.
After a brief brush with leading man roles in the '90s and early 2000s, Hawke settled into a career of indie films aided by his inextricable connection to Richard Linklater's Before trilogy. Then came a curious pivot to horror. In 2012, Hawke starred in the Blumhouse production Sinister, a critically acclaimed SXSW favorite that would help aid Blumhouse's rise from low-budget indie studio to today's go-to horror company. Now, Hawke is teaming up with Blumhouse again, but this time for a small-screen adaptation of The Good Lord Bird.
Variety reports that Hawke has signed on with Blumhouse TV to develop and star in a limited series based on James McBride's 2013 National Book Award-winning novel The Good Lord Bird.
Hawke is co-writing the script with Fear the Walking Dead scribe Mark Richard, and is on board to star as abolitionist leader John Brown. The story follows a young slave who disguises himself as a girl in order to join John Brown's crusade against slavery which culminated in the famous 1859 raid on the army depot at Harpers Ferry.
Here is the official synopsis of The Good Lord Bird:
"The story of a young boy born a slave who joins John Brown's antislavery crusade – and who must pass as a girl to survive. Henry Shackleford is a young slave living in the Kansas Territory in 1857, when the region is a battleground between anti- and pro-slavery forces. When John Brown, the legendary abolitionist, arrives in the area, an argument between Brown and Henry's master quickly turns violent. Henry is forced to leave town – with Brown, who believes he's a girl. Over the ensuing months, Henry – whom Brown nicknames Little Onion – conceals his true identity as he struggles to stay alive. Eventually Little Onion finds himself with Brown at the historic raid on Harpers Ferry in 1859 – one of the great catalysts for the Civil War."
While Blumhouse's name has become synonymous with small-budget horror on the big screen, its small screen fare looks like it will far more varied. The Good Lord Bird is one of several prestige dramas that Blumhouse CEO Jason Blum is pushing, including HBO's adaptation of Gillian Flynn's Sharp Objects and Showtime's The Loudest Voice in the Room.
Hawke fit perfectly with the project as well — the First Reformed actor is close friends with Blum, and is apparently a big fan of McBride's novel. The Good Lord Bird will be the first time Hawke has written and developed a TV show (he has co-written two of the Before films, and recently wrote and directed the film Blaze), and I'm sure it will only be one more intriguing chapter in Hawke's career.