Original 'Crocodile Dundee' Star Paul Hogan Returns For 'The Very Excellent Mr. Dundee'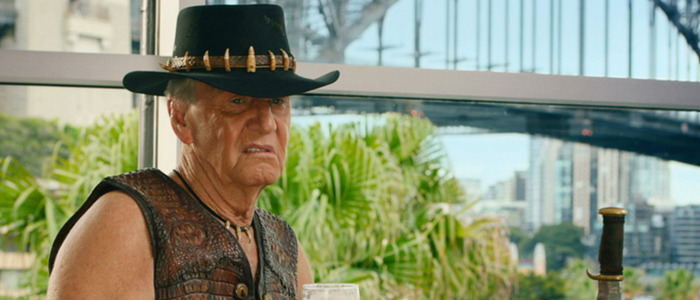 Paul Hogan is coming back for another Crocodile Dundee movie...sort of. Hogan will play himself in The Very Excellent Mr. Dundee, a comedy about the actor and former Crocodile Dundee going through a series of misadventures on the cusp of receiving Knighthood.
Remember a few months ago, when word of a surprise Crocodile Dundee sequel surfaced? And then it all turned out to be part of an elaborate Australian tourism ad that aired during the Super Bowl? It looks like all that hubbub might have paid-off for original Crocodile Dundee star Paul Hogan. THR (and others) are reporting that Hogan will star in a comedy called The Very Excellent Mr. Dundee.
But here's the thing: despite the title, this isn't a Crocodile Dundee sequel. Instead, the film will find Hogan playing "a semi-fictional version of himself who is set to receive a knighthood for his services to comedy. But despite his best efforts, in the run-up to Hogan receiving the award, he sees his name and reputation destroyed."
This...is strange. The title is clearly meant to cash-in on the Crocodile Dundee brand, but the movie has nothing to do with Crocodile Dundee. Nothing against Paul Hogan, who seems like a nice guy, but I can't imagine audiences are clamoring for this. But hey, maybe they are. Maybe there are a lot of Hogan-Heads out there itching for a comedy in which Hogan plays a fictionalized version of himself. This premise reminds me of the 2008 film JCVD, in which Jean-Claude Van Damme plays a fictionalized version of himself, caught in the middle of a bank robbery.
As for The Very Excellent Mr. Dundee, Hogan tells fans to "watch this space, as I've been honoured to have many of my friends and colleagues, whose work I adore, agree to join us for this hilarious new adventure." Perhaps this means some of the famous faces who appeared in the Dundee tourism ad – like Danny McBride and Chris Hemsworth – will pop up in the movie. Or perhaps not. Australian filmmaker Dean Murphy, who directed Hogan in the comedy Strange Bedfellows, will helm the movie.
But what of the Crocodile Dundee franchise? Will we ever see a new entry, or perhaps some sort of reboot? I can't say for sure, but I have a suggestion: someone should make a movie about the real Crocodile Dundee. Believe it or not, there was a real man who inspired the character of Crocodile Dundee. His name was Rod Ansell, and he became famous in the 1970s after surviving an ordeal in which he was stranded in the Australian wild 120 miles from the nearest human settlement. Ansell survived for 56 days with limited supplies – he sustained himself by hunting wild cattle and buffalo, and drank cattle blood when he ran out of water. Eventually, he was rescued. But wait, that's not all! In 1999, Ansell died in a shoot-out with the police after raving that "Freemasons had kidnapped his two sons and were now stalking him."
There's your new Crocodile Dundee movie, Hollywood. Make it happen.