Is Matt Reeves Rebooting 'The Batman' Without Ben Affleck?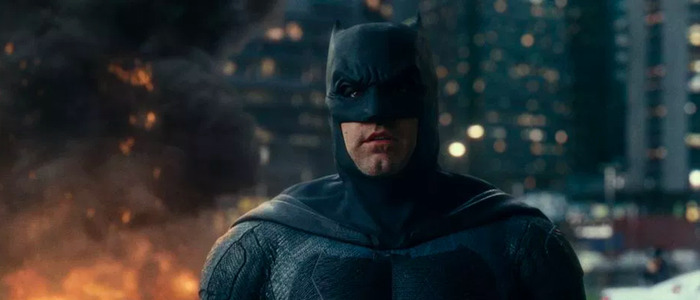 Matt Reeves has been working on bringing The Batman to screen for over a year now, and yet we're still not quite sure what's going on with the film. Now, a new report indicates that Reeves will be completely rebooting the latest Bat-flick as a standalone movie, and that Ben Affleck's days of playing the Caped Crusader are over.
Take this rumor with a heaping dose of salt, but Ben Affleck is reportedly done playing Batman. Yesterday, word broke that Geoff Johns was stepping down as DC Entertainment President to form his own production company. When Deadline reported this news, they casually tossed off an interesting, somewhat surprising bit of info regarding the future Batman movie that was first announced by Warner Bros. in 2014: "Matt Reeves [is] rebooting Batman for a new standalone franchise, likely with a new actor to play the Caped Crusader after Ben Affleck's stints in Batman V Superman and Justice League."
If true, this isn't entirely unexpected. The standalone Batman film, officially titled The Batman, has gone through several different incarnations behind-the-scenes. After Christopher Nolan's Dark Knight trilogy, the Caped Crusader went back to the shadows, leaving a bat-sized hole at the multiplexes. Nolan's trilogy effectively wrapped-up that particular Bat-story, so it was assumed that when and if Batman returned to the big screen, it would be in a new form. After Man of Steel, several comic book movie-friendly sites reported a rumor that Warners was trying to coax Christian Bale back into the cape and cowl for a Man of Steel sequel (Bale later denied any such offer was made).
In 2014, Ben Affleck officially became the new Batman for Batman v Superman: Dawn of Justice. The internet, being the internet, did not react kindly to Affleck's casting. Eventually, fans warmed up to the idea, and while Batman v Superman didn't earn rave reviews, Affleck's take on a sort-of-crazy Batman garnered praise.
Almost immediately after Affleck's Dawn of Justice casting, rumors abounded of an inevitable standalone Batman film – possibly with Affleck directing. Warners announced a new Batman movie in 2014, and by 2016, Affleck was set to direct and co-write the film with Geoff Johns. Affleck's Batman was supposed to start shooting in 2017, but by January 2017, Affleck was out of the director's chair, but was still apparently set to play Batman.
In February 2017, Matt Reeves was officially hired to helm the movie, now called The Batman. Ever since then, the project has remained in a state of flux. In mid-2017, Reeves revealed he was throwing out Affleck's script entirely for something new. And even as Justice League was gearing up to hit theaters, rumors abounded that Affleck was hanging up his cape for good. Even Affleck's brother Casey Affleck suggested the days of Batfleck were over. For his part, Ben Affleck denied the rumors, insisting he was staying put.
In late 2017, a new rumor surfaced that Reeves wanted Jake Gyllenhaal to replace Affleck. Since then, however, Gyllenhaal has joined the cast of Spider-Man: Homecoming 2, which effectively torpedoes the chance of him taking over for Affleck.
So what now? Now, we wait. If Deadline's report is true, Reeves' eventual Bat-film is going to effectively ignore the events of Batman v Superman and Justice League, and start fresh. This is probably for the best. Warner Bros. and DC seem to be trying to forge a new identity with their films in general. While the DCEU as we know it is sort-of continuing on with the upcoming Aquaman, Wonder Woman 2 and new films spun-off from Suicide Squad, like the Harley Quinn/Birds of Prey movie and the standalone Joker movie starring Jared Leto, there are also plans for a series of films that are unconnected from the main cinematic universe. Films like the other standalone Joker movie, possibly starring Joaquin Phoenix.
The only thing we can say with any certainty is that at some point in the not-too-distant future, there will be a new Batman movie. We're just going to have to wait and see what kind of movie it ends up being.