New Blu-Ray Releases: 'A Wrinkle In Time', 'Love, Simon', 'The Death Of Stalin', 'Tomb Raider', 'Death Wish'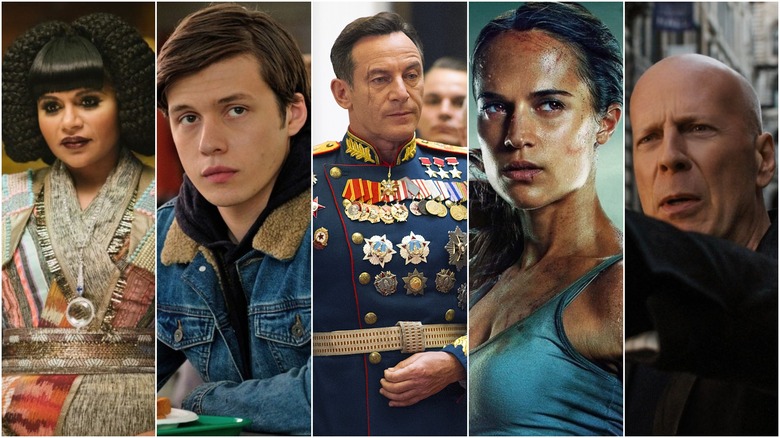 (Welcome to Not Dead Yet, a feature dedicated to new Blu-ray releases and what special features you should be excited about. Because yes, some of us still like to own physical copies of our movies.)
Hello once again, physical media phans. It's time to round-up some of the best Blu-rays currently available for your viewing pleasure. This week we have Ava DuVernay's inventive Disney film A Wrinkle In Time, the emotional coming-of-age dramadey Love, Simon, the darkly hilarious The Death of Stalin, Alicia Vikander's Tomb Raider reboot, and Bruce Willis' Death Wish remake. 
Here are the new Blu-ray releases and their special features you should check out this week.
A Wrinkle In Time
I so very much wanted to love A Wrinkle In Time. Director Ava DuVernay is immensely gifted, and in a short period of time has proven herself to be a filmmaker worth paying attention to. For her adaptation of Madeleine L'Engle's novel, DuVernay assembled a dynamite cast that includes Oprah Winfrey, Reese Witherspoon, Mindy Kaling, Gugu Mbatha-Raw, Michael Peña and Chris Pine. With all of this in mind, A Wrinkle In Time should've been a home run.And yet...Look, Wrinkle is a film with the very best intentions. On top of that, it's an inventive, ambitious movie. With that in mind, I can't write the film off entirely. But so much of this film just doesn't work. Not only does it not work, it doesn't work in spectacular ways. Nothing in Wrinkle feels finalized – you get the sense that you're watching a first draft; something that hasn't been hammered out and made more coherent. It's frustrating, and it wears you down.Young actress Storm Reid is quite good as Meg, a middle-school kid who has fallen on hard times following the disappearance of her father (Chris Pine). Meg lives with her mother (a tragically underused Gugu Mbatha-Raw) and her adoptive brother Charles Wallace (Deric McCabe), who is one of those painfully annoying precious movie kids that really gets under your skin (also, characters constantly refer to him as Charles Wallace, not just Charles, and it's maddening). One day, Meg gets drawn into a universe-jumping adventure when she's recruited by three strange, magical women – Oprah Winfrey, Reese Witherspoon, Mindy Kaling. All this sounds like it could be fun, right? It's not.There are things to like about this film. The movie is full of scenes with positive messages, particularly aimed at young girls. That's important, and a much-needed thing in mainstream movies. And a lot of the world building here is unique and admirably strange. Yet Wrinkle In Time never quite gels. But you may still be drawn to it, and I have a feeling that despite my opinion on the movie, this is going to be one of those anomalies that gets rediscovered in a few years and heralded as a misunderstood classic.
Special Features To Note:"A Journey Through Time" is your standard making-of feature. Everyone here is super positive, and seems genuinely warm and wonderful. It's clear that making this movie was a lot of fun, and the mood on the set must've been great.DuVernay says the story is like "a beautiful stew of delicious ingredients: social commentary, science, spirituality, romance, adventure...it's an epic journey that really attracted me as a filmmaker."Throughout the making-of feature, we learn how DuVernay pushed for a diverse cast, and how she worked to bring L'Engle's noivel into the 21st century. I ended up enjoying the making-of feature more than the film itself – it's energizing to watch all these talented people work, even if the end result wasn't quite as good as it should've been.There are a string of deleted scenes, one of which gives Gugu Mbatha-Raw a bit more to do, which really should've made it into the movie simply so the film would have more of her. In the scene, Mbatha-Raw's character attempts to explain what a tesseract is. There's also a somewhat unnerving deleted scene called "Paper Girl", in which the main characters encounter a cruel otherworldly girl who hurls insults at them.
Special Features:
A Journey Through Time – Take an up-close look at the making of this magnificent movie with Director Ava DuVernay, Oprah Winfrey, and the cast and crew.
Deleted Scenes (with optional director audio commentary)
Ant on a String
Aunt Beast
Meg Learns About Calvin's Dad
Papergirl
Audio Commentary
Director Ava DuVernay
Producer Jim Whitaker
Co-Screenwriter Jennifer Lee
Production designer Naomi Shohan
First assistant director Michael Moore
Editor Spencer Averick
VFX supervisor Rich McBride
Bloopers
Original Songs/Music Videos
"I Believe" performed by DJ Khaled featuring Demi Lovato
Warrior" performed by Chloe x Halle
Love, Simon
Is Love, Simon a bit too simplistic? Sure. Does it settle its conflict a bit too neatly, and easily? Yes. Is that okay? It sure is, because Greg Berlanti's adaptation of Becky Albertalli's YA book Simon vs. the Homo Sapiens Agenda is so earnest, and so emotionally honest, that you can forgive some of the film's lesser qualities. At the start of the film, Simon (Nick Robinson) tells us he has "a perfectly normal life, except one huge-ass secret." That secret? He's gay, and he's yet to come out to his friends and family. 
One day, a mystery student at Simon's high school posts on the school's main message board that he's gay. Simon begins a correspondence with this student, and the two develop a semi-You've Got Mail internet romance. But of course, neither knows who the other is. For its first hour, Love, Simon plays out like your standard teen rom-com, except that it's about a gay teen – which hasn't happened before in a studio picture like this. Then, at the hour mark, the film transforms into something else, and this is where Love, Simon truly begins to shine. Simon is outed by a fellow classmate, and his whole world changes.
You can probably guess where this is all ultimately going as you watch Love, Simon. Yes, Simon's relationship with his friends will survive. And yes, Simon's parents – played affably by Josh Duhamel and Jennifer Garner – will accept him. And yes, Simon will eventually find out who the mystery student is. But the predictability doesn't really diminish the film, mostly because it's hard not to get swept up in this story, and the performers. Robinson makes for a charming lead, and the actors playing his friends are all amusing in their own unique ways. Duhamel and Garner are mostly relegated to the sidelines, but each of the two actors gets their own to shine in heart-to-heart scenes with Robinson (I dare you not to cry during these scenes; I'm pretty sure not crying as these moments unfold is scientifically impossible).
Ultimately, Love, Simon's message of acceptance is too damn powerful to resist. The direction from Berlanti isn't anything to write home about, and this film probably won't end up on many top 10 lists come the end of the year. But if Love, Simon changes the hearts and minds of at least one person somewhere, or speaks to someone who needed to hear the film's message, then hell, it was worth it.
Special Features To Note:A feature focused on adapting the book has director Berlanti describing the appeal of the narrative: it's a traditional coming of age story, and yet it's not, because there hasn't been a major studio movie about a gay coming of age story. The producers reflect on a certain amount of pressure in creating this film, simply because they're "putting something there that wasn't there before", and they wanted to get things right. Beyond this, everyone here has nothing but nice things to say about the book. Author Becky Albertalli in turn says she never even thought the book would become a film. Part of this has to do with the book's structure – it's half traditional narrative, half emails, so the filmmakers had to find a way to make the frequent internet-based scenes cinematic. 
Other features include a look at the likable cast of the film, with particular attention paid to star Nick Robinson and how perfect he was for the lead role. Then there's not one, but two different mini-featurettes about shooting the film on location in Georgia. It's a bit touristy, but if you're from Georgia (specifically Atlanta), you might get a kick out of this. There's also two deleted scenes, both featuring Simon interacting with his friends, neither of which adds a whole lot to the finished film.
Special Features:
Deleted Scenes
Featurettes:
"The Adaptation" – Learn how the touching book Simon vs. The Homo Sapiens Agenda by Becky Albertalli was adapted into Love, Simon
"The Squad" – Love, Simon's cast members are some serious #squadgoals. Take a look into how the filmmakers developed, casted and perfected Simon's squad
"#FirstLoveStoryContest" – Everyone deserves a great first love story! Watch one lucky fan tell audiences about their first love story.
"Dear Georgia" – Join the filmmakers as they show you the iconic filming locations in Atlanta.
"Dear Atlanta" – The book takes place in Atlanta and the film was also shot there! Learn the many reasons why production chose this great city!
Gallery
Audio Commentary by Director Greg Berlanti, Producer Isaac Klausner and Co-Screenwriter Issac Aptaker
The Death Of Stalin
One of the best films of 2018 comes courtesy of Veep creator Armando Iannucci. That film is The Death of Stalin, and in it, Iannucci works his own particular brand of satirical genius to somehow turn the events of the Great Terror into comedy. This shouldn't work...and yet, it does. Iannucci blends bleak darkness with hysterical humor to tell the story of the mad grab for power of the Soviet Union after Stalin dies. Scheming, manipulation and pratfalls abound, and as all the hilarity unfolds on screen, a brutality lurks just out of frame, biding its time before coming out in full force during the film's shocking final moments.
This is such a strange film that I wouldn't be surprised if many people don't take to it. Some may be confused by the jarring tone, and the violence and viciousness that occasionally bursts out may turn many viewers off entirely. But those who are on board with Iannucci's lightning-fast mix of quips and tricks are going to be in for a treat. In a cast full of gifted performers, Steve Buscemi might be the stand out, giving arguably the best performance of his already acclaimed career as Nikita Khrushchev. Buscemi is matched by Simon Russell Beale as the brutal, downright evil (and yet somehow funny!) Lavrentiy Beria.
But really, everyone is great here. As I said in my original theatrical review, "The Death of Stalin piles on a cast of memorable, laugh-out-loud funny characters: there's Stalin's drunken, violent son (Rupert Friend) and grieving, scowling daughter (Andrea Riseborough); Michael Palin as a politician more than happy to declare his innocent wife a traitor for the good of the country; and Jason Isaacs as a general who knows how to make an entrance. All of these characters bounce off each other, verbally and sometimes even physically, in ways that will be familiar to anyone who has seen In the Loop or Veep."
Special Features To Note: 
First and foremost, I have to issue a complaint: as of now, The Death of Stalin is only receiving a DVD release in the U.S. If you want to own the film on Blu-ray, you'll have to import it from the U.K. I'm not sure why this decision was made, but that's the way it is. Perhaps a more memorable Blu-ray will find its way to America sooner or later (make it happen, Criterion).
For now, we'll have to make due with the DVD. There are only two features included here. One is a series of deleted scenes, which add even more jokes to a film that's pretty much brimming with non-stop jokes. These deleted moments sometimes are less than a minute long, and illustrate the rapid-fire, never-ending nature of the script, and the improv skills of the actors. I don't know if this deleted moments would make the movie even better had they been included in the final film, and it's likely Iannucci cut them for pacing. Still, it's good to have them gathered together in one place.
The other feature is about the making of the film, and it's shockingly dry. The film is constantly on fire, always moving, and maybe it just wore everyone involved out, because the cast and crew interviewed here are extremely low-energy. The feature mostly involves the cast describing which characters they're playing and what the film is about. The insightful moments from from Iannucci, who talks about the inspirations and ideas behind creating the film. He told his actors to play things straight, and let the satire come out. He also talks about the inevitable comparison between Stalin's bumbling regime in the film and the Trump administration, saying he was "quite consciously looking to do something about dictatorship" and about how a country can be terrorized by a personality. 
Special Features:
Dictators, Murders and Comrades...Oh My!
Deleted Scenes
Tomb Raider
Alicia Vikander and her amazing abs star in Tomb Raider, a gritty origin story of the video game character Lara Croft. Lara already had two Tomb Raider films starring Angelina Jolie. Then, in 2013, the Tomb Raider video game was rebooted with more cinematic graphics and a new story for Lara Croft. It was only a matter of time before Hollywood came calling.
The new Tomb Raider, from director (and possible cartoon lion) Roar Uthaug, follows the Batman Begins/Casino Royale approach, in that it shows us how Lara Croft became Lara Croft. But who the hell wants to see that? We don't need to learn Lara's backstory – we just want to see her raid some damn tombs! A movie about Alicia Vikander running around like a female Indiana Jones shouldn't be this lifeless, and yet...here we are.
To her credit, Ms. Vikander gives this film her all, running, jumping and putting her .00 % body fat to great use. It's a shame Tomb Raider is such a let-down, because in the right hands, Vikander's Lara Croft could've been great – the type of memorable character made to launch franchises. Instead, she's stuck in this low-energy special effects extravaganza. Lara sets out on a quest to find her long-lost father (Dominic West). She finds him stranded on an island which is currently under the control of crazy bad guy Walton Goggins. Goggins wants to open the tomb of a legendary queen, but Lara's pop thinks opening the tomb could bring about the end of the world.
This sounds pretty exciting, right!? It isn't!
Tomb Raider didn't blow up the box office, but a part of me hopes that a better filmmaker (and a better screenwriter) gets a chance to give this series one more go with Vikander in the lead. She deserves the chance to get this right, and there is a good movie to be made out of this material. Just rip-off every single Indiana Jones movie, but don't make it too obvious. That's it! That's all you need to do to get Tomb Raider right. It shouldn't be that hard.
Special Features To Note: "Tomb Raider Uncovered" is your typical making-of feature. Here, we see the filmmakers discussing the movie growing from the 2013 video game reboot, and how, with this new Tomb Raider film, they were hoping to tell a gritty origin story for Lara Croft. There's lots of praise here for Vikander and how committed she was to the role, and understandably so. She's the only genuinely good element to the whole dang movie. "Croft Training" is your front row seat to learn all about how Alicia Vikander got dem abs. There is lots of footage of Vikander hitting the gym to get ripped with her personal trainer/lifestyle coach. It looks grueling and exhausting, but you can't argue with the results. "Breaking Down the Rapids" gives viewers an overview of the creation of one of the film's big action set-pieces – a scene featured in all the trailers, where Lara gets swept down a river and dangles above a waterfall. This feature will appeal to people interested in the specifics of blockbuster filmmaking, as it shows the combination of the raw footage of Vikander (and stunt performers) shooting the scene before special effects were added, and then the finished product. "Evolution of an Icon" tracks Lara Croft's many incarnations in her various video games. You learn about the character's origins, and you see her ever-changing form through multiple games. Anyone interested in the character will likely enjoy this. 
Special Features:
Tomb Raider: Uncovered – The cast and crew reveal the challenges – and the fun – of bringing Lara Croft's thrilling adventures of life for a new generation.
Croft Training – Enter the gym with Award winning actress Alicia Vikander as she prepares for the most physically demanding role of her career and transforms into the iconic action hero Lara Croft.
Breaking Down the Rapids – Join Director Roar Uthaug as he and other members of the cast and crew break down the film's most exciting action set piece.
Lara Croft: Evolution of an Icon – Explore the revolutionary TOMB RAIDER saga from video games to movies, and discover how Lara Croft became one of the most popular and successful female characters of all time.
Death Wish
The last thing we needed right now was a film about an old, angry white guy shooting people of color, but we got it anyway. That film is Eli Roth's Death Wish, the remake of the 1974 Charles Bronson film. No one would ever accuse the Bronson original of being sensitive, but that movie had a sleazy, exploitation charm to its proceedings. Roth's Death Wish has none of that. Instead, it's a slick, ultra-violent gun commercial.
Star Bruce Willis spends nearly every scene acting as if he's overdue for his afternoon nap, and it's not fun. Willis actually can deliver a great performance if he tries. But he stopped trying a long time ago, and he clearly has no real enthusiasm for the role, or this film. So why should we? Willis plays Dr. Paul Kersey, an average upper-class family man who transforms into a deadly vigilante after punks break into his house and kill his wife and injure his daughter.
Kersey goes around Chicago gunning down criminals – many of whom are black. And if you think the image of old, white Bruce Willis shooting down black people is cringeworthy, you're right. To be clear, someone could actually make a smart, disturbing movie using this material. But that person isn't Eli Roth. Roth doesn't really care about a message, and I honestly don't think he put much thought into the real-world implications of this subject matter. All Roth wants to do is have an excuse to stage big violent scenes loaded with gore. Mission accomplished, I guess.
But here's the thing: even if you removed the political subtext from this movie, Death Wish would still be hollow and un-engaging. Anytime Roth has to film something other than violence, it comes across as flat and uninspired. And Willis' sleepy performance is depressing. The only life here is Vincent D'Onofrio, playing Willis' ne'er-do-well brother.
Special Features: 
There's a string of deleted scenes: one where Willis learns more about a violent man he almost had a confrontation with; another where Willis comes home for the first time after his wife and daughter were attacked, and sort-of-cries when he sees the mess (Willis scrunches up his face and frowns, so I'm assuming he's supposed to look like he's crying, but he might just be gassy). Then there are two other scenes with the cops (played Dean Norris and Kimberly Elise) investigating Willis' crimes.
"Directing Death Wish" delves into the making of the movie. Here, Roth compares the vengeance theme to superhero movies, and says that Death Wish is like a violent superhero movie. There are some interviews with Willis, who seems even more sleepy behind-the-scenes than he does on screen. The somnolent actor says says he wanted to be in the film because he liked the "idea" of the story. For his part, Roth says here he wanted to make a movie that was "respectful to all sides." I'll let you decide if he's being honest or not.
Special Features: 
Commentary w/ Eli Roth & Roger Birnbaum
Deleted scenes with optional commentary w/ Eli Roth & Roger Birnbaum
Mancow Morning Show Extended Scenes
Sway in the Morning Extended Scene
Vengeance and Vision: Directing Death Wish
Grindhouse Trailer
***
Also available on Blu-ray this week: The Strangers: Prey at Night. See our full Blu-ray review here.