Hulk Hogan Vs. Gawker Movie Coming From 'Red Sparrow' Director And 'Big Short' Writer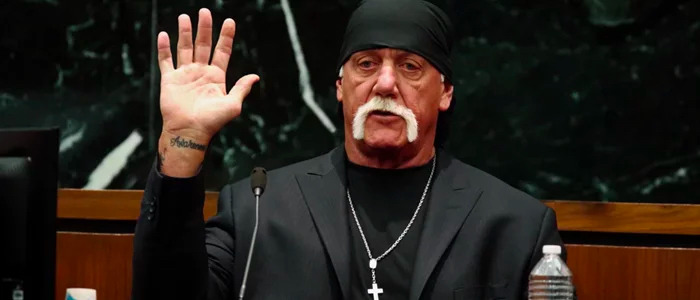 The Hulk Hogan vs. Gawker trial is getting the big screen treatment from Red Sparrow director Francis Lawrence and Big Short screenwriter Charles Randolph. The film will dramatize wrestler Hulk Hogan's lawsuit against Gawker Media – a lawsuit that sent Gawker into bankruptcy, and closed down the website for good.
The infamous Hulk Hogan vs. Gawker trial kicked off numerous debates about free speech and made huge headlines, so it was only a matter of time before the movies came calling...again and again. The Hollywood Reporter reveals that Hunger Games sequel and Red Sparrow helmer Francis Lawrence will direct a film adapted from Ryan Holiday's book Conspiracy: Peter Thiel, Hulk Hogan, Gawker, and the Anatomy of Intrigue. Here's an excerpt from the book's synopsis:
In 2007, a short blogpost on Valleywag, the Silicon Valley-vertical of Gawker Media, outed PayPal founder and billionaire investor Peter Thiel as gay. Thiel's sexuality had been known to close friends and family, but he didn't consider himself a public figure, and believed the information was private.
This post would be the casus belli for a meticulously plotted conspiracy that would end nearly a decade later with a $140 million dollar judgment against Gawker, its bankruptcy and with Nick Denton, Gawker's CEO and founder, out of a job. Only later would the world learn that Gawker's demise was not incidental–it had been masterminded by Thiel.
For years, Thiel had searched endlessly for a solution to what he'd come to call the "Gawker Problem." When an unmarked envelope delivered an illegally recorded sex tape of [Hulk] Hogan with his best friend's wife, Gawker had seen the chance for millions of pageviews and to say the things that others were afraid to say. Thiel saw their publication of the tape as the opportunity he was looking for. He would come to pit Hogan against Gawker in a multi-year proxy war through the Florida legal system, while Gawker remained confidently convinced they would prevail as they had over so many other lawsuit–until it was too late.
The verdict would stun the world and so would Peter's ultimate unmasking as the man who had set it all in motion. Why had he done this? How had no one discovered it? What would this mean–for the First Amendment? For privacy? For culture?
This won't be the first, nor last, Hulk Hogan Gawker trial movie. The documentary Nobody Speak: Hulk Hogan, Gawker and Trials of a Free Press debuted at the 2017 Sundance Film Festival before hitting Netflix. Modern Family's Jason Winer is set to helm Gawker v. Thiel, a courtroom drama that focuses on the events. Earlier this year, it was rumored that Holiday's book would be turned into a limited TV series. It's not clear if that series will still happen, or if it's been converted into a feature film.
The Big Short screenwriter Charles Randolph is going to pen the script for this latest version of the story, which might indicate the direction the movie might be going in – blending comedy with drama."Ryan Holiday's book and the story it tells are rare gifts for a screenwriter," said Randolph. "These are such larger-than-life characters – strange, new volatile forces in society – and their conflict matters."
Lawrence added: "When I read Ryan's extraordinary book I was totally taken with this story, such an exquisitely contemporary tale, and I immediately had a vision for it as a film..It's an important and meaningful story, and one I'm excited to tell."