'GLOW' Season 2 Trailer: The Gorgeous Ladies Of Westling Are Back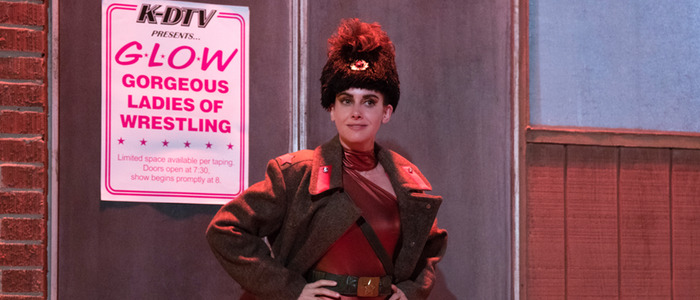 The Gorgeous Ladies of Wrestling are back in the GLOW season 2 trailer. Netflix's comedy series set in the world of 1980s women's wrestling returns later this month, with a whole new season full of body slams and emotional stakes. Watch the high-energy trailer below.
GLOW Season 2 Trailer
GLOW is one of Netflix's best shows for several reasons: the writing is smart and funny, the cast is great, the premise is enjoyable, and, perhaps best of all, the show never overstays its welcome. Many Netflix originals suffer from bloat – I'm looking at you, Netflix's Marvel shows – but each episode of GLOW runs around thirty minutes, which ultimately works in the show's favor. Each episode breezes by with little to no narrative excess, and the end result is rewarding.
Now GLOW is coming back with an all-new season, and it looks promising. GLOW tells the story of Ruth Wilder (Alison Brie), "an out-of-work, struggling actress in 1980s Los Angeles who finds one last chance for stardom when she's thrust into the glitter and spandex world of women's wrestling. In addition to working with 12 Hollywood misfits, Ruth also has to compete with Debbie Eagan (Betty Gilpin) a former soap actress who left the business to have a baby, only to be sucked back into work when her picture perfect life is not what it seems. And at the wheel is Sam Sylvia (Marc Maron), a washed-up, B-movie director who now must lead this group of women on the journey to wrestling stardom."
Season 2 finds the ladies of GLOW dealing with both fame and misfortune as they cope with celebrity status and the looming threat of cancellation. ""We're doing way bigger moves this season," co-star Betty Gilpin told Variety. "I in particular do a huge amount of wrestling in season 2 and my joints and muscles and ligaments are squeaking and singing like an old, old woman."
GLOW season 2 arrives on Netflix on June 29, 2018.
Season 2 follows the women of GLOW as they become local celebrities, confronting the good, the bad, and the ugly realities of their newfound fame. As Ruth and Debbie settle into the day-to-day of making a season of TV together, they confront lingering issues at the heart of their friendship. Sam is still Sam, but now he has a teenage daughter living with him and twenty episodes to churn out. The wrestling is harder, the stakes are higher, and the hair is even bigger.