'The Little Stranger' Trailer: 'Room' Director Lenny Abrahamson Directs Domhnall Gleeson In An Eerie Gothic Horror Tale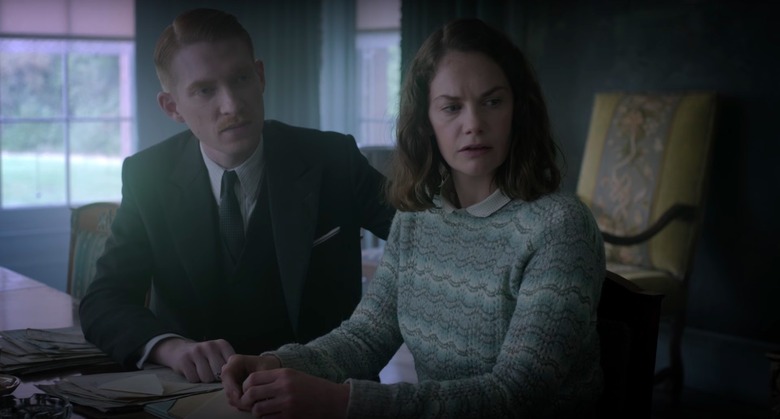 After winning accolades for directing 2015's Oscar-winning Room, Lenny Abrahamson returns to the scene with his first foray into horror. It's a huge 180 for a director mostly known for offbeat indie movies like Adam and Paul, Garage, and Frank, but The Little Stranger looks like it will be an eerie and exciting next film for Abrahamson.
The Little Stranger stars Domhnall Gleeson as a country doctor who investigates strange happenings at the crumbling remnants of a once-grand mansion where he had spent his childhood. And you can watch the first trailer now.
The Little Stranger Trailer
Based off the 2009 novel of the same name by Sarah Waters, The Little Stranger is a creepy and moody period piece that taps into the best tropes of Gothic horror: a decaying and isolated mansion, a mysterious family hiding horrifying secrets, and plenty of glorious mustaches.
Set in 1947, The Little Stranger follows Gleeson's Dr. Faraday, a humble country doctor who returns to the Hundreds Hall, where his mother worked as a housemaid. But he finds the once-splendid manor reduced to its crumbling foundations, and his patient — a burn victim played by Will Poulter — suffering from delusions that begin to take over the entire house. The trailer starts off subdued and a little dreary, but gradually reveals a truly chilling ghost story that could herald a new era for Abrahmson as a horror director.
The Little Stranger also stars Ruth Wilson, Charlotte Rampling, and Alison Pargeter.
Here is the official synopsis for The Little Stranger:
THE LITTLE STRANGER tells the story of Dr. Faraday, the son of a housemaid, who has built a life of quiet respectability as a country doctor. During the long hot summer of 1948, he is called to a patient at Hundreds Hall, where his mother once worked.  The Hall has been home to the Ayres family for more than two centuries.  But it is now in decline and its inhabitants – mother, son and daughter – are haunted by something more ominous than a dying way of life.  When he takes on his new patient, Faraday has no idea how closely, and how disturbingly, the family's story is about to become entwined with his own.
The Little Stranger opens in theaters on August 31, 2018.