'Jojo Rabbit' First Look: Taika Waititi Attends One Strange Dinner (As Hitler)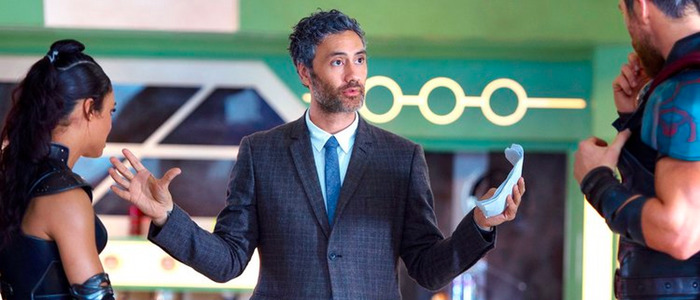 Thor: Ragnarok director Taika Waititi began filming his next movie a few days ago, an anti-war comedy called Jojo Rabbit that also stars Waititi in an unexpected role: he's playing a young boy's imaginary friend. Oh yeah – and the kid's imaginary friend is Adolf Hitler.
Now the filmmaker has shared the first photo from the set, giving us a good look at him in costume as the notorious German dictator as he sits across a table from co-star Scarlett Johansson. Check it out below.
Jojo Rabbit First Look
Possibly the weirdest dinner I've ever been to. #jojorabbit #Shitler @jojorabbitmovie ? @kimberleyfrench
A post shared by Taika Waititi (@taikawaititi) on
The satire of Nazi Germany stars Waititi, Johansson, recent Oscar winner Sam Rockwell, Pitch Perfect breakout Rebel Wilson, up-and-coming actress Thomasin McKenzie, and newcomer Roman Griffin. The movie tells the story of "an awkward young German boy raised by a single mother, and whose only ally is his imaginary friend Hitler. His naïve patriotism is tested when he meets a young girl who upends his world views, forcing him to face his biggest fears."
The way the ten-year-old protagonist meets the young girl sounds like a meet-cute in a twisted romantic comedy: the boy's mother (Johannson) is secretly working for the Resistance and is hiding the girl (McKenzie) in the attic. That'll certainly make for an awkward dinner...especially with an imaginary friend (let's get #Shitler trending) along for the ride.
Waititi has assembled a wonderful cast for this weird little indie movie, full of veterans who should align perfectly with his comedic sensibilities. This will be our introduction to Roman Griffin, but we've already seen his young co-star McKenzie in action in Winter's Bone director Debra Granik's new movie Leave No Trace, and she's definitely going to be a rising star in the years to come.
Jojo Rabbit has been kicking around since at least 2012, when the script made it onto the Black List – Hollywood's annual ranking of the best unproduced screenplays of the year. But it looks like the box office haul of Thor: Ragnarok has given Waititi the freedom to make a movie that sounds totally unconventional – which is to say, it sounds very much like a pure Taika Waititi project. We can't wait to see what he has in store for us.Jojo Rabbit does not have a release date yet, but I expect it'll hit theaters sometime in 2019.