'His Dark Materials' Casts James McAvoy As Lord Asriel, Clarke Peters As Lyra's Guardian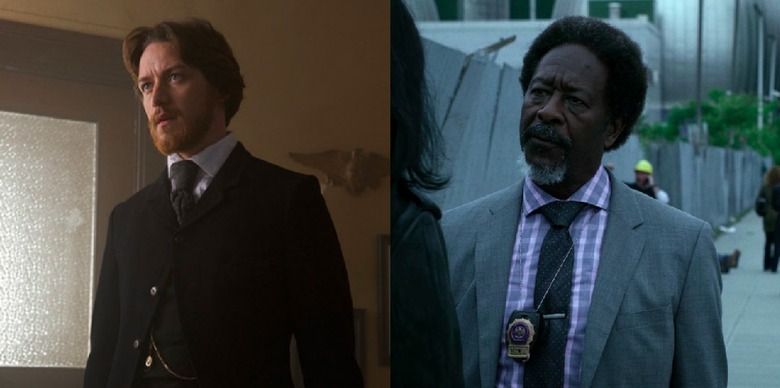 The His Dark Materials cast is becoming absolutely divine.
The upcoming BBC series has just cast James McAvoy (Split) and Clarke Peters (The Wire, Three Billboards Outside Ebbing, Missouri) in key roles in Tom Hooper's highly anticipated adaptation of Philip Pullman's beloved YA novels. They'll join an already stacked cast including Logan's Dafne Keen and Hamilton's Lin-Manuel Miranda.
Deadline reports that McAvoy has been cast as Lord Asriel, the rugged and charming explorer first played by Daniel Craig in the 2007 feature film The Golden Compass. Asriel is a key figure in the story of Lyra Belacqua (Keen), a hot-headed young girl living in an alternate Oxford, England who embarks on a dangerous quest to rescue her kidnapped friend. First introduced as her uncle, it's revealed that Asriel is her father — untangling a web of conspiracies surrounding Lyra that stretch back to even before her birth.
Meanwhile, Peters will play Dr. Carne, the Jordan College Master who raises Lyra in the safety of the school's academic sanctuary.
Miranda has also been confirmed to play Lee Scoresby, the gruff Texan adventurer who runs into Lyra later in her journey.
The King's Speech director Tom Hooper will direct the eight-part fantasy series that New Line first attempted to bring to the big screen in 2007. Unfortunately, The Golden Compass was hit with heavy cuts and censorship in the face of protests from the Catholic Church, and was ultimately deemed an expensive failure, wasting its brilliant cast including Craig, Nicole Kidman, Eva Green, and Ian McKellen.
But the BBC adaptation's cast is starting to live up to the glorious potential of the feature film. I've griped for years about how Craig and Kidman were perfectly cast for Lord Asriel and his sinister foe/lover Mrs. Coulter, respectively, but McAvoy is an incredible replacement. Though Asriel only flits in and out of Lyra's journey throughout The Golden Compass (titled Northern Lights in the U.K.), The Subtle Knife, and The Amber Spyglass, his presence is overwhelmingly strong throughout the trilogy of novels. Asriel has to ooze a dangerous charisma, and McAvoy's colorful career proves that he's more than capable of doing just that.
While I do worry that Hooper's subdued visual style won't do justice to the lush, rich world of His Dark Materials, this stupendous cast is starting to assuage my fears. My one hope is that the trilogy's subject matter — which has faced controversy because of its depiction of a malicious, tyrannical Church, and an overtly atheist approach to religious themes — doesn't get butchered by protests or censorship once again. That was where the film failed, and hopefully a subject that the TV series won't be afraid to broach.
His Dark Materials is set to begin production in Wales soon. More casting will be announced over the next few weeks. It will be executive produced by Pullman, Jane Tranter, Julie Gardner, Toby Emmerich and Caroline Blackwood for New Line, and Bethan Jones for BBC One and Deborah Forte for Scholastic.
The series is rumored to air on BBC One in late 2019 or early 2020.