Eddie Murphy To Play Blaxpoitation Icon Rudy Ray Moore In Netflix's 'Dolemite Is My Name'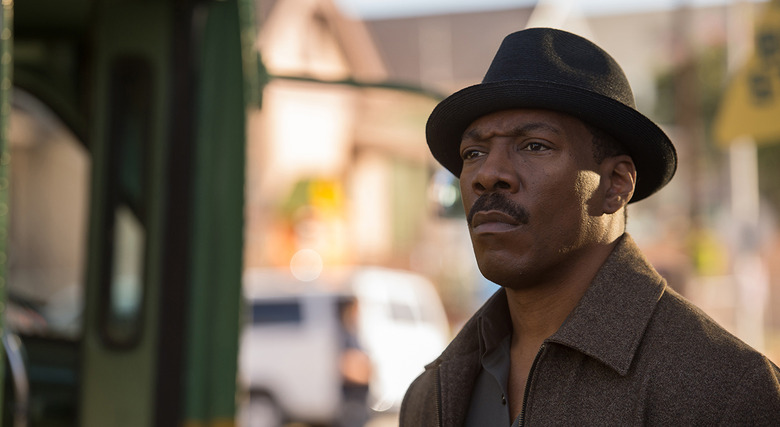 Dolemite is his name, and Eddie Murphy is game to take on the role of the famous blaxpoitation star Rudy Ray Moore. Murphy is set to star in the Netflix biopic Dolemite is My Name, which will chronicle the life of the star of the blaxploitation Dolemite films.
Dolemite is back on the scene! And with him, he's bringing back Murphy, who has been missing from the feature film scene since last appearing in 2016's Mr. Church. But even before headlining that dramedy, Murphy's film roles have been few and far between, with his last major feature role being in 2012's A Thousand Words. Now, Murphy is set to make a dynamite return to the big screen — well, the streaming screen.
Murphy will star as Rudy Ray Moore in Dolemite is My Name, a biographical film for Netflix written by Scott Alexander and Larry Karaszewski, the duo behind quirky biographical films as Big Eyes, Ed Wood, and The People Vs. Larry Flynt, Deadline reports.
Hustle and Flow's Craig Brewer is set to helm the film.
Rudy Ray Moore is a role that Murphy has been eager to play for more than a decade, according to Deadline. Murphy cites Moore's campy Dolemite series as having a major influence on his career. And indeed, Dolemite, which has been dubbed the "Citizen Kane of kung-fu pimping movies" leaves a wide-lasting legacy on the blaxpoitation genre, which is seeing a sort of revival in satire and in genre films.
Moore began his career in a Hollywood record store in 1970, where he began hearing obscene stories of a pimp hustler named Dolemite. Inspired, he began a club act where he took on the character of Dolemite, creating comedy records about the fictional ghetto character. The records gained a huge following in the inner city underground, which allowed Moore to finance the 1974 film Dolemite, in which he starred as a kung fu-fighting pimp hero who battled The Man. Three sequels would follow, and Moore had a cult hit on his hands.
Moore also played a part in shaping the modern rap scene, influencing hip hop pioneers like Snoop Dogg. He even made a cameo alongside the hip hop group Insane Clown Posse in Big Money Hustlas in 2000. Moore passed away in 2008.
No release date has been set yet for Dolemite is My Name.