A Jared Leto 'Joker' Standalone Movie Is In The Works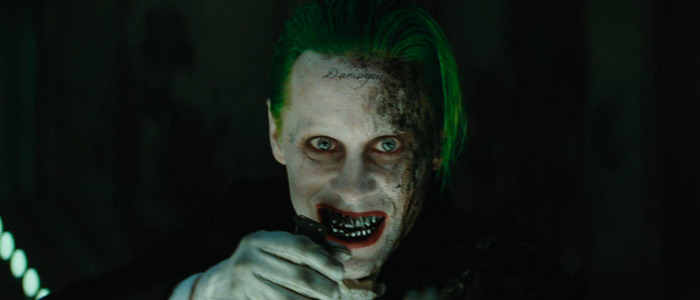 Warner Bros. just wants to watch the world burn, so they've decided to go ahead and give Suicide Squad's Jared Leto his own standalone Joker movie. This will be the second standalone Joker movie in the works, with the previously reported Todd Phillips/Joaquin Phoenix film moving forward as well.
Not many people were impressed with Jared Leto's take on the Clown Prince of Crime in Suicide Squad, but Warner Bros. is willing to give him another chance. Variety reports that Warners is developing a standalone Joker film that will enable Leto to stencil DAMAGED on his forehead once again. Leto will star in and executive producer this Joker movie, and Variety says "the studio's idea is to expand on the world created by Suicide Squad and tie into future installments of that property."
If you think this news means the previously-reported solo Joker movie – the one directed by Todd Phillips, produced by Martin Scorsese and supposedly starring Joaquin Phoenix – is dead, think again! Warner Bros. and DC are developing a "new origins" banner that's separate from the current DCEU as we know it. This new banner allows multiple actors to play multiple versions of certain characters, with no overlap. This sounds both interesting and very confusing. Variety's story indicates that Warners has definitely offered Joaquin Phoenix the part in the other film, but there's no word if Phoenix has accepted it yet.
As for Leto's Joker movie, there's no official start date on production. Nor is there any idea what the plot will be about – Leto and the producers are currently in search of a writer to craft the story. But does anyone even want this? Leto's Joker performance in Suicide Squad earned less-than-favorable reviews, and it almost felt as if Warner Bros. and DC were ready to move on from the Suicide Squad fiasco. That said, Leto's part was relatively small in the final film. Thea ctor shot much more material for Suicide Squad, but reshoots and edits whittled his role down.
Meanwhile, Leto's Suicide Squad co-star Margot Robbie is spearheading her own Harley Quinn standalone film – which may or may not be the previously reported Birds of Prey movie being directed by Cathy Yan.
In short, it seems like Warner Bros. DC films are in a constant state of flux. At the very least, it's clear now that rather than emulate Marvel's Cinematic Universe, Warners and DC are going to try something completely different. In the meantime, the DC film universe has Aquaman hitting theaters later this year, and Shazam and Wonder Woman 2 set to arrive in 2019.