'Operation Finale' Trailer: Oscar Isaac Hunts A Nazi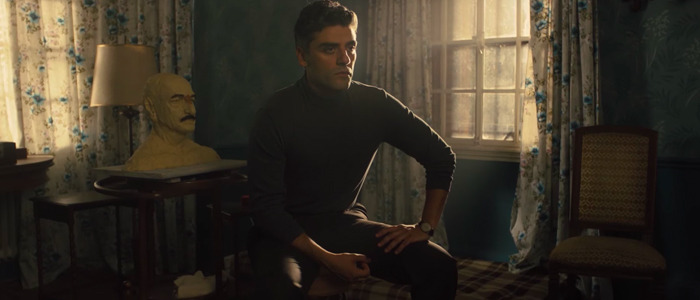 In Steven Spielberg's 1993 Best Picture winner Schindler's List, Ben Kingsley played a Jewish administrator who aided in the effort to save lives during the Holocaust. In a new movie called Operation Finale, Kingsley steps to the other side and plays a Nazi official responsible for the deaths of millions of innocent people.
MGM has released the first Operation Finale trailer, which stars Oscar Isaac as a Mossad agent who's tracking Kingsley's character in an attempt to bring him to justice. Check it out below.
Operation Finale Trailer
Kingsley isn't the only actor who's previously been involved with a movie about the horrors experienced during World War II. Melanie Laurent, who broke out with her role as Shoshanna in Quentin Tarantino's Inglourious Basterds, joins Isaac's character in the hunt here. And speaking of Isaac, he has some experience with Holocaust-adjacent projects as well; who could forget this iconic scene from X-Men: Apocalypse in which the title villain visits Auschwitz?
But seriously though, watching the Operation Finale trailer actually did remind me of X-Men: First Class, when the team finds Michael Fassbender's Magneto hunting former Nazis in Argentina. Operation Finale looks like a similar plot (minus all of the mutant-controlled metal, of course), only the final goal is to actually have these bastards stand trial for what they've done.
Also joining the fray is Nick Kroll, dipping his toe into dramatic waters for the second time in his career following his appearance in 2016's Loving. It's always surprising to see him pop up in serious films like this – especially considering the other movie he's in this year is Uncle Drew, a comedy that stars a bunch of professional basketball players wearing old-age makeup. Talk about range!
Operation Finale comes from director Chris Weitz, the writer of 2015's Cinderella and 2016's Rogue One: A Star Wars Story and the director of films like About A Boy, The Golden Compass, and The Twilight Saga: New Moon. Lior Raz, Joe Alwyn, Haley Lu Richardson, Michael Aronov, Ohad Knoller, Greg Hill, Torben Liebrecht, Mike Hernandez, Greta Scacchi and Pêpê Rapazote co-star.
Here's the film's official synopsis:
This thrilling true story follows the 1960 covert mission of legendary Mossad agent Peter Malkin as he infiltrates Argentina and captures Adolf Eichmann, the Nazi officer who masterminded the transportation logistics that brought millions of innocent Jews to their deaths in concentration camps.
Operation Finale arrives in theaters on September 14, 2018.