'White Boy Rick' Trailer: Matthew McConaughey Takes On The 1980s War On Drugs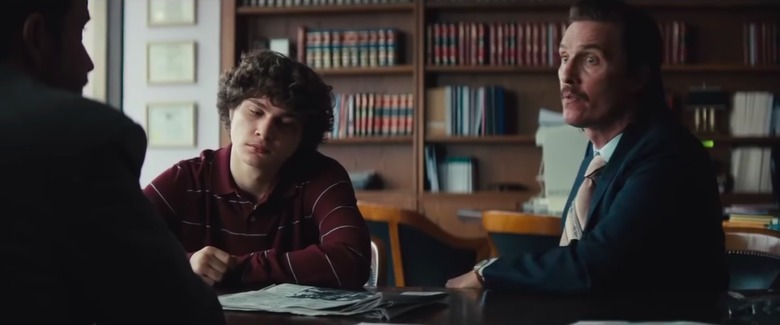 When Matthew McConaughey is not doing Lincoln car commercials, he's transforming himself fully for a role that will surely earn him accolades — if not Oscar nominations. And it looks like his latest role will bring him plenty of buzz.
McConaughey stars in White Boy Rick, a crime thriller by French director Yann Demange that adapts the wild true story of the Chicago teenager who would go on to be the youngest FBI informant and drug kingpin in history. The first White Boy Rick trailer, which features McConaughey as the titular Ricky Wershe Jr.'s father, gives us our first look at this stranger-than-fiction drama.
White Boy Rick Trailer
Demange exploded onto the scene with the 2014 historical thriller 71, a film so gripping and taut that it propelled Demange's name into the short list for potential James Bond directors. Demange ultimately would not make the cut, but it looks like he's still got plenty to offer based on the White Boy Rick trailer.
Based on a true story that takes place in the midst of the 1980s Chicago drug wars, White Boy Rick follows Wershe's son, Ricky Wershe Jr. (played by newcomer Richie Merritt), who at 14 becomes the youngest informant in FBI history. His father Wershe Sr. (McConaughey) allows his son to enter the dangerous and glamorous world of drug dealing as an FBI informant. But their brief brush with opulence is cut short when the FBI abandons Ricky Wershe Jr., landing the teenager with a life sentence in prison after being arrested for drug trafficking.
Demange directs a screenplay by Steve Kloves, Logan Miller, Noah Miller, and Andy Weiss. Jennifer Jason Leigh, Bruce Dern, Bel Powley, and Piper Laurie also star.
The real-life Wershe Jr.'s story has been subject to a true-crime documentary, which exposes the systemic corruption that went into the man's conviction. Wershe Jr. was arrested in 1987 at age 17 for cocaine possession, spending nearly 30 years behind bars for a first offense before being paroled. He's now in a Florida prison, serving time for his involvement from behind bars in a stolen-car ring. Wershe Sr. died in 2014, without seeing his son out of prison.
McConaughey has met Wershe Jr., telling USA Today that he admitted his guilt, but was repentant.
"He never claimed to be a saint, but at the same time he was adamant that he never had the amount of drugs he was busted for," McConaughey says. "He also understands that when he does become a free man, he will still be seen as (having) an outstanding debt to society."
 Here is the official synopsis for White Boy Rick:
In 1980s Detroit, Ricky Wershe Jr. was a street hustler, FBI informant and drug kingpin — all before he turned 16. Based on the true story.
 White Boy Rick opens in theaters on September 14, 2018.