'Solo' Drops 65% In Second Weekend But Still Tops Domestic Box Office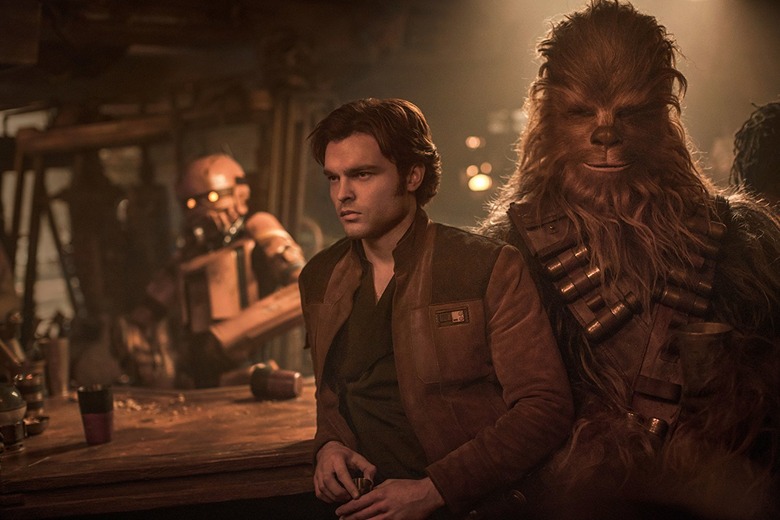 Solo: A Star Wars Story continues to fly so low at the box office, with its second weekend seeing a drastic 65% drop. Solo only made $29.3 million at the domestic box office this weekend, far less than its $84 million three-day opening, though still enough to maintain its No. 1 spot.
And while the Star Wars prequel film managed to top the domestic box office, it suffered another hit internationally, where Deadpool 2 reclaimed the crown.
Solo has stalled at the box office, with its disappointing second weekend bringing the Star Wars film's total earnings to $149.5 million domestically, and $264 million total. If things keep going this way, Solo is set to be the lowest-grossing live-action theatrical Star Wars movie of all time in America when adjusted for inflation, according to Forbes.
At $149.5 million, Solo sits well under The Empire Strikes Back's $209 million. But still, it's only Solo's second weekend. The film's entire domestic run should be able to pass The Empire Strikes Back's raw grosses, though it won't come close to that film's adjusted-for-inflation gross of $722 million. Box Office Mojo's ticket inflation list paints an even grimmer picture for Solo: barring Clone Wars, Solo is the lowest first-run Star Wars earner by far, trailing behind even the special edition re-release of the original film.
But what about internationally? It turns out Solo has run into even more speedbumps at the global box office, losing its No. 1 crown to Deadpool 2 in it second weekend, according to Variety. Solo took in only $30.3 million internationally from 54 territories, dropping 54% in its second weekend. However, Solo still held better overseas than its Star Wars predecessors, Star Wars: The Last Jedi (67% drop) and Rogue One (65% drop).
Second-weekend drops aren't a sign of a movie's demise — nearly every blockbuster will see a drastic drop following a massive opening. But still, Solo's box office numbers don't bode well for its overall run, nor does it bode well for any future Star Wars summer releases.
Solo: A Star Wars Story is currently playing in theaters.
Young Han Solo finds adventure when he joins a gang of galactic smugglers, including a 196-year-old Wookie named Chewbacca. Indebted to the gangster Dryden Vos, the crew devises a daring plan to travel to the mining planet Kessel to steal a batch of valuable coaxium. In need of a fast ship, Solo mee

ts Lando Calrissian, the suave owner of the perfect vessel for the dangerous mission — the Millennium Falcon.