J.K. Rowling Has Started Writing 'Fantastic Beasts 3'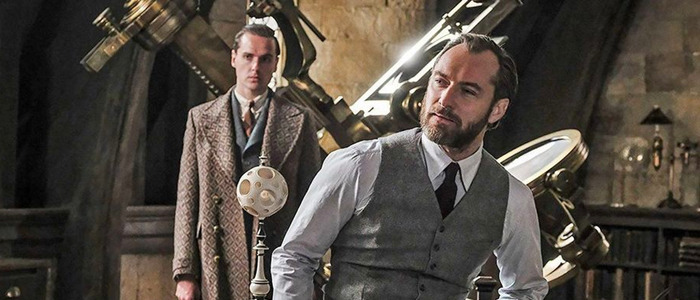 Fantastic Beasts: The Crimes of Grindelwald isn't out yet, but J.K. Rowling is already at work on the Fantastic Beasts 3 script. The film will the third of five total entries in Rowling's new Wizarding World saga.
Warner Bros. has a total of five Fantastic Beasts films planned, and it looks like J.K. Rowling might be writing the screenplays for all of them. We already knew Rowling would be coming up with the stories for each film, but the author recently confirmed she's already penning the script for the next entry. "I've just finished the fourth Galbraith novel, Lethal White, and I'm now writing the screenplay for Fantastic Beasts 3," Rowling said in a Q&A (via Vanity Fair).
Rowling also added:
"Warner Bros. and David Yates, the director, have always let me have my say, though not necessarily the final word...That's true of all the producers, of whom I'm only one: our input is taken seriously but it is very much a collaborative effort. The director is ultimately responsible for everything that's seen on the screen."
So what will the third film be about? We don't know yet. We do know that the plan, according to Fantastic Beasts franchise director David Yates, is to have each film set in a new city. The first film, Fantastic Beasts and Where to Find Them, was set in New York. The sequel, Fantastic Beasts: The Crimes of Grindelwald, is going to be set primarily in Paris. And the third? Well, only the people inside the production know that. As Yates told Entertainment Weekly:
"Jo's already told us where the next one is taking place. It's very exciting. This is a global story, ultimately. And given that there's a global audience for this, it's all the more delightful to take the story to different parts of the world."
Producer David Heyman added:
"We delve deeper into [J.K. Rowling's] wizarding world — we're in Paris, we're in London and New York — the world is expanding," Heyman says. "As you can tell from the [cast photo], we're following quite a few characters. The new film has a very different feel than the first. It's got a thriller quality. And it's also a story about love and passion and all its forms — paternal, romantic, political. And it's just a thrilling and very fun adventure. We took all we've learned from one and just expanded that and created a richer, deeper and more thrilling film which I'm excited to be a part of."
So where does Fantastic Beasts 3 take place? My guess – beautiful Branson, Missouri! I could be wrong, though.
Fantastic Beasts: The Crimes of Grindelwald will have Magizoologist Newt Scamander (Eddie Redmayne) joining forces with young Albus Dumbledore (Jude Law) to prevent the devious Gellert Grindelwald (Johnny Depp) from raising pure-blood wizards to rule over all non-magical beings.
Fantastic Beasts: The Crimes Of Grindelwald opens on November 16, 2018. Fantastic Beasts 3 opens November 20, 2020.