Bill Skarsgard Says 'It Chapter 2' Will Be A 'Very Different Experience'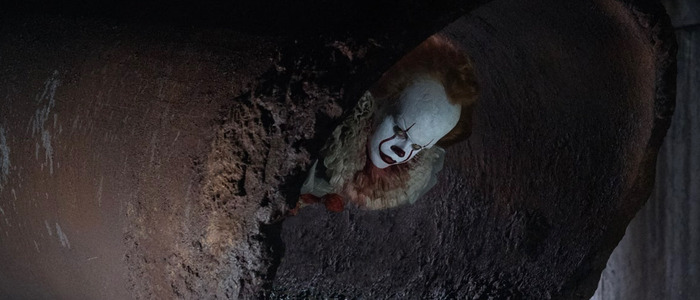 It: Chapter 2 is gearing up to shoot this summer, and Pennywise himself just provided an update on the project. In a new interview, actor Bill Skarsgard said that when it comes to the horror sequel, audiences can expect "a very different experience" than the first film.
Andy Muschietti starts shooting It: Chapter 2 in July, and the hype for the sequel to his 2017 horror-hit is already through the roof. We know the basic premise of the film, thanks to Stephen King's novel – the Losers' Club is all-grown-up, and forced to return to Derry, Maine to once again battle Pennywise the Clown, played by Skarsgard.
We'll have to wait for more specific details about the film, but for now, Skarsgard offered a mini-update on sequel, telling Den of Geek:
"It's going to be a very different experience this time around, just given the fact that you have all of these incredible, seasoned actors to play against, as opposed to having all the kids. So it's going to be a different experience for sure. But I'm looking forward to it."
Skarsgard also added that he's in the process of resurrecting Pennywise by getting into character:
"We're gearing up for it now, so I'm sort of in the process of getting back into that character of Pennywise. I'm sort of in the mindset and we're gearing up for it. I think they start in July. I'm not sure exactly when my start date is, but some time this summer.
The actor also revealed that he and Muschietti are still hashing-out the way the script approaches Pennywise:
"We're figuring it out, you know...I have a very good relationship with Andy, not only as a director and actor, but also just as a very close friend, so we're having fun with it and we're figuring out what we're going to bring to the table for part two."
While Tim Curry's take on Pennywise from the 1990s It miniseries is iconic, I loved what Skarsgard did with the role. While Curry played the character as a bit of a boisterous showman, Skarsgard's Pennywise was truly inhuman, with a warbling voice and a strange, eerie way of moving. I can't wait to see what he does with the character again.
It: Chapter 2 will hopefully live-up to all the hype. Muschietti and company continue to assemble an impressive ensemble cast to fill out the sequel. Jessica Chastain is playing Bev; James McAvoy and Bill Hader are in talks to play Bill and Richie, respectively; James Ransone will play Eddie; Andy Bean is taking on the part of Stan and Jay Ryan will play Ben. The only main role left to fill is Mike Hanlon, and with the film beginning production in a few months, I'm sure we'll know who is playing that character very soon.
It Chapter 2 opens on September 6, 2019.