Jason Momoa Shares 'The Crow' Concept Art, Apologizes For Dropping Out, Promises To Play The Character One Day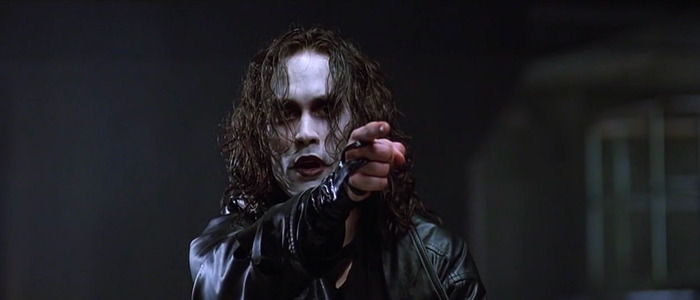 The most recent iteration of The Crow remake went down in flames yesterday when director Corin Hardy and star Jason Momoa walked away from the movie a few weeks before shooting was set to begin. Now, Momoa has shared a piece of concept art and a tiny sliver of a look at him wearing the character's iconic makeup. In an accompanying statement, the actor also swore that he'll still play the part one day.
The Crow is based on James O'Barr's graphic novel from the 1980s, which is about a rock musician named Eric Draven who's resurrected to seek revenge on those who murdered him and raped and murdered his fiancee. It was adapted into a movie in 1994, and Hollywood has been intent on producing a remake for the past decade. We ran down the remake's insanely troubled production history yesterday, and I'd highly encourage you to check that out if you're not familiar with the ins and outs of the story – it's pretty wild.
Jason Momoa, the most recent actor attached to play Draven, took to Instagram (via GeekTyrant) to reveal a piece of The Crow concept art. And it took me a second to notice this because he sort of blends in with the colors of this photo, but the top of the frame, you can see Momoa's eyes peeking over the concept art. He's wearing The Crow's face paint, which might look familiar to wrestling fans, since Sting adopted it for his wrestling persona after seeing the '94 movie: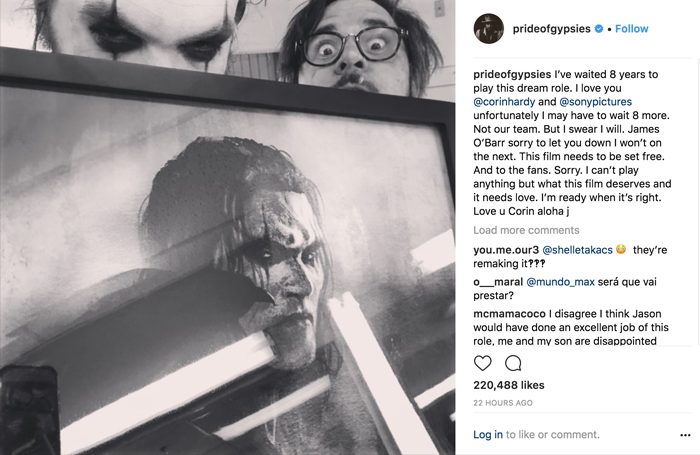 Speaking of professional wrestling: that concept art sort of makes Momoa look like The Undertaker. But it's still better than the truly ridiculous concept art for a version of this movie that would have put Bradley Cooper in the lead role.
Here's Momoa's caption with social media handles removed and punctuation added:
"I've waited 8 years to play this dream role. I love you Corin Hardy and Sony Pictures. Unfortunately, I may have to wait 8 more. Not our team. But I swear I will. James O'Barr, sorry to let you down. I won't on the next. This film needs to be set free. And to the fans. Sorry. I can't play anything but what this film deserves and it needs love. I'm ready when it's right. Love you, Corin. Aloha, J"
Momoa's passion for the movie really comes through – especially the part where he swears to play The Crow in another version of the movie one day. That seems like a big promise to make, but if this truly is a dream role for him, then maybe he'll find a way to make it happen.
Momoa and Hardy reportedly left the project due to "creative and financial differences with Samuel Hadida, whose Davis Films holds the underlying rights and who was financing the film." Sony Pictures had planned to distribute the movie on October 11, 2019, but unless Hadida finds a new cast and star very quickly, it seems unlikely that another version of The Crow will be in theaters next year.