'Solo' Projection Problems Are Ruining The Film's Amazing Cinematography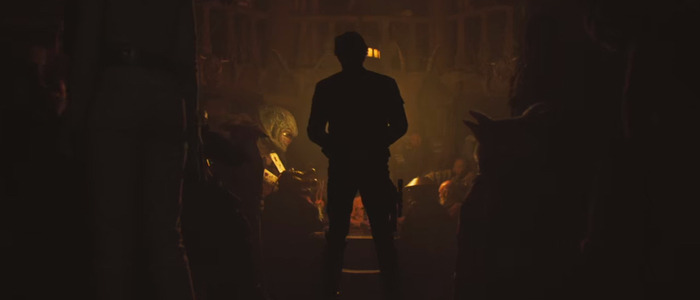 Solo: A Star Wars Story is one of the best-looking Star Wars films to date. But most people are having a hard time realizing that, thanks to lousy theater projection that's turning Bradford Young's incredible cinematography into a murky mess.
Some cinephiles will tell you nothing beats watching a movie in a movie theater. I'm not one of them, because movie-going has become a real pain in the ass, thanks to rude crowds and the incessant glare of cellphones. Worst of all, though, is the fact that many movie theaters are really bad at providing a quality movie-going experience. Case in point: the recent release of Solo: A Star Wars Story was met with complaints that in many cases, the film was too dark to see.
But here's the thing: when projected right, Solo looks amazing. The cinematography from Bradford Young is unlike anything else in the Star Wars universe. Young's cinematography is full of murky blues, muddy browns, and ever-present fogs. He embraces darkness in his visuals, and brings a realism that other Star Wars films are lacking. "This film had to be natural," Young said in a behind-the-scenes video for Solo. "This film had to be about characters putting their feet on natural surfaces."
And yet all anyone can seem to talk about is how dark the movie looks. Critic Bilge Ebiri saw the film both at the Théâtre Debussy at the Cannes Film Festival, and also at a regular American theater, and said the result was like night and day, going so far as to say "Bradford Young should sue."
Bradford Young should sue. That's a great looking movie if you can see it properly. But millions of people probably won't.

— Bilge Ebiri (@BilgeEbiri) May 28, 2018
So what's going on here? In an interview with Indiewire, Boston Light & Sound co-founder Chapin Cutler, one of the industry's leading consultants on proper projection and theater construction, says poor projection courtesy of lazy theater chains is to blame:
"The problem is with one of these masters of low light is if the projector's brightness is off even just 10 percent, you lose all that detail...That's why, every step along the way there are standards from when the image is captured in the camera to the creation of the DCP to projection itself. The standards for light level basically haven't changed in 100 years of cinema."
Greg Sherman, head projectionist for the Film Society of Lincoln Center, added:
"The problem is digital cinema brought automation, and there's no longer a trained technician checking that a film is projected correctly...These machines drift, bulbs dim, and they need constant adjustments. You can save a lot of money, but the problem is if we aren't showing movies the way they are meant to be seen we are giving people yet another reason not to come to the movie theater."
Automation is a big issue here. As Cutler reveals, "Most theaters load their projectors on Thursday night and the timed projectors take care of themselves. If a theater runs 2-D screenings in the afternoon and 3-D screening at night, rarely is there someone there to make the adjustments." In other words, no one in charge is paying attention to the problems. And that's very unfortunate. Every year, movie theater owners, worried about dwindling attendance, loudly wonder what it would take to get audiences to return. If you ask me, giving audiences what they're there to see – i.e. a properly-projected movie – would be a big step in the right direction.
As for Solo: A Star Wars Story, if your theater experience was cursed by impenetrable darkness, there's always the inevitable 4K Blu-ray release to look forward to.