'Let The Corpses Tan' Trailer Promises Style And Violence Galore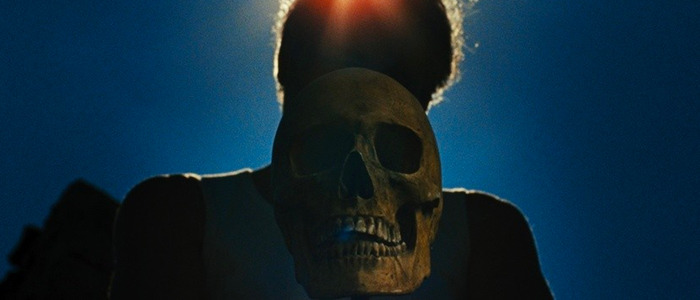 Let The Corpses Tan is the new stylish slice of violence from modern-giallo makers Hélène Cattet and Bruno Forzan. It's one of those movies low on substance and big on shots and editing that smash you over the head – and I mean that in a good way. Watch the Let The Corpses Tan trailer below.
Let The Corpses Tan Trailer
I like the work of filmmakers Hélène Cattet and Bruno Forzani, but I also know they're an acquired taste. Their movies – Amer, The Strange Color of Your Body's Tears and now Let The Corpses Tan – are intended to be modern-giallos. That is, they're films that serve as stylish throwbacks to 1970s Italian crime and horror movies – the type of films Lucio Fulci, Antonio Margheriti, Dario Argento, Mario Bava (and more) used to make.
Cateet and Forzani's films always look incredible, but oftentimes, they leave a lot to be desired in the story department. At times, Let The Corpses Tan seems as if it has a lot going on, but when you begin to look beyond the blitz of quick-cuts and close-ups, you don't find much. I saw it last year at TIFF, and walked away mostly nonplussed. But it's hard to deny how gorgeous these movies are to look at, and this Let The Corpses Tan trailer certainly highlights that.
Reviewing the film for /Film, Marshall Shaffer wrote:
Cattet and Forzani proceed to fire on all cylinders, deploying a full arsenal of cinematic techniques to induce the visceral response they seek. Color, framing, montage – you name it, they're using it at full throttle. Edited at the zippy speed of a sleek commercial, this is 90 minutes of pure cinematic sensory assault.
Kino Lorber will release Let The Corpses Tan August 31, 2018 in New York and Los Angeles before expanding to select cities.
Belgian filmmakers Hélène Cattet and Bruno Forzani trade in the crushed velvet and creeping shadows of their giallo-worshiping first two films (Amer, The Strange Color of Your Body's Tears) for blistering sun, creaking leather and raining bullets in this glorious homage to 1970s Italian crime films. After stealing a truckload of gold bars, a gang of thieves absconds to the ruins of a remote village perched on the cliffs of the Mediterranean. Home to a reclusive yet hypersexual artist and her motley crew of family and admirers, it seems like a perfect hideout. But when two cops roll up on motorcycles to investigate, the hamlet erupts into a hallucinatory battlefield as both sides engage in an all-day, all-night firefight rife with double-crosses and dripping with blood. Based on a classic pulp novel by Jean-Patrick Manchette and featuring music by Ennio Morricone, Let the Corpses Tan is a deliriously stylish, cinematic fever dream that will slamfire your senses like buckshot to the brain.