Netflix Announces 'The King' Cast, Including Ben Mendelsohn, Robert Pattinson, And More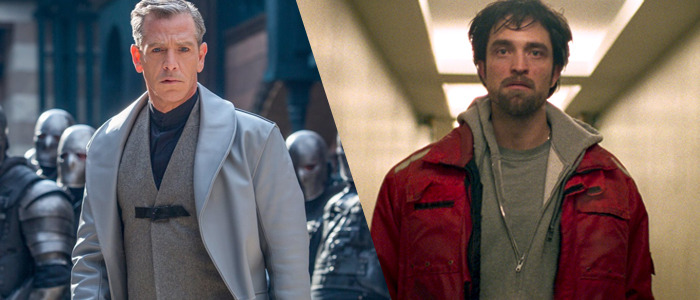 Netflix's upcoming movie The King has found its subjects.
Director David Michod (Animal Kingdom, War Machine) begins production tomorrow on his William Shakespeare-inspired epic movie, and he's pulled together a pretty stellar cast to join previously-announced stars Timothee Chalamet (Call Me By Your Name) and Joel Edgerton (Warrior). Read on to learn about the rest of The King cast and who they'll play in this story of war, legacy, and nobility.
A Netflix press release informs us that production will be underway in the next 24 hours on The King, a new movie inspired by elements of William Shakespeare's historical plays Henry IV and Henry V. For those who aren't up to snuff when it comes to Shakespeare (that admittedly includes myself), those plays tell the historical story of a young Henry V, a prince who hangs out with lowlifes but eventually ascends to the throne.
The plays have been adapted into films numerous times, including a recent batch of TV movies for the BBC called The Hollow Crown, which starred Tom Hiddleston as Henry V (aka "Hal").
Kenneth Branagh directed a movie adaptation of Henry V in 1989 and played the title role:
In addition to Chalamet and Edgerton, the cast includes Sean Harris (Mission: Impossible – Rogue Nation), Ben Mendelsohn (Rogue One: A Star Wars Story, Ready Player One), Robert Pattinson (Good Time, The Lost City of Z), Lily-Rose Depp (Yoga Hosers), Tom Glynn-Carney (Dunkirk), and Thomasin Harcourt McKenzie (Leave No Trace).
Here's the official logline:
Inspired by elements of Shakespeare's Henry IV and Henry V, a young, disgraced prince, Hal inherits the crown and must learn what it means to be a king, guided by his one true friend, Falstaff.
We already knew
, the young man who becomes King Henry V, and that Edgerton was playing Falstaff. But today's press release reveals who each of the new additions will play: Mendelsohn is playing King Henry IV, Pattinson will play The Dauphin, Harris will play William, Depp steps into the role of Princess Catherine, Glynn-Carney plays Hotspur, and McKenzie will play the role of Philippa.
Michod and Edgerton co-wrote the script back in 2013, and in 2016, Edgerton spoke a bit about it on the
:
"We've written 'Henry IV' and 'Henry V' as a period film, but with our own dialogue. For lack of a better word, [it's] 'Game Of Thrones' meets Shakespeare only in that, you can watch 'Game Of Thrones' and understand what's going on. I feel like, with complete deference to Shakespeare, there is something that happens when even the most intelligent people watch Shakespeare. They feel stupid, because he does the kind of roundabout version of telling you simple things. So, we just wanted to let the audience understand exactly what's going on, and not just some people, but everybody."
The King will debut on Netflix sometime in 2019.