'Suspiria' Trailer: Dakota Johnson Dances Into A Nightmare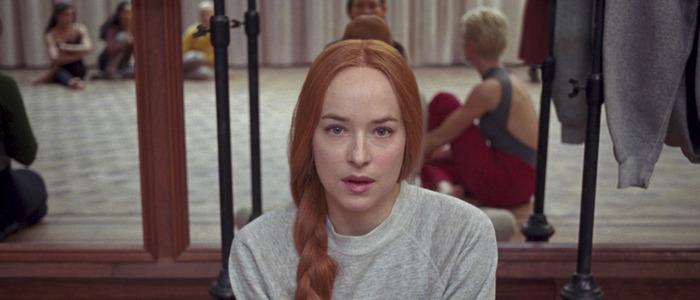 The first trailer for Luca Guadagnino's Suspiria remake just danced its way online. Was it worth the wait? Watch the Suspiria trailer below and see.
Watch the Suspiria Trailer
The hype for the Suspiria remake from Call Me By Your Name director Luca Guadagnino had been steadily building, and then came CinemaCon. Footage from the film was screened for press at the event, those in attendance went wild. Ever since then, fans have been eagerly anticipating the inevitable trailer for the film. Now we get to see footage for ourselves.
Guadagnino is remaking the 1977 Dario Argento horror classic, and while the basic premise is the same – strange goings-on at a dance company – Guadagnino's approach looks markedly different than Argento's. Argento's film is renowned for its use of color, whereas there's a muted color pallet blanketing Guadagnino's film. This is intentional – Guadagnino's way of distinguishing his film from Argento's. Still, it might raise a few eyebrows. "It has no primary colors in its color palette, unlike the original," Guadagnino said. "It will be cold, evil and really dark."
Suspiria stars Tilda Swinton, Dakota Johnson, Chloë Grace Moretz, Mia Goth, and original Suspiria actress Jessica Harper. Harper had nothing but praise for the new take on her old film, saying: "I have seen this movie – the most brilliantly scary film I have ever seen...Luca's Call Me By Your Name does not prepare you for it, but throws into relief the director's brilliance and versatility."
The new Suspiria also boasts a score by Radiohead's Thom Yorke. I don't know if Yorke's score can ever live up to the original film's iconic score from Italian progressive rock band Goblin, but I'm dying to hear it.
"It's a very special film, and I'm proud of it," Guadagnino told Criterion last year. "I wonder all the time how people will react to it, being that it is based on a masterpiece. I often find myself in the position of saying 'Oh, it's ridiculous!' when I hear stories that they want to remake a movie like '8½,' so I don't know if I'm going to be served the same dish. But I can say that my Suspiria is a very personal film; it's like oxygen to me. When I saw the original movie thirty-two years ago, the emotion I felt was so strong, so mind-blowing, and so important to my upbringing. I wanted to investigate the experience I had watching that film."
Suspiria opens November 2, 2018.
As a darkness builds at the center of a world-renowned dance company, its artistic director (Tilda Swinton), a young American new to the troupe (Dakota Johnson), and a grieving psychotherapist (Lutz Ebersdorf) become entangled in a bloody, sighing nightmare.