That 'Sonic The Hedgehog' Movie Casts James Marsden, Seemingly As The Token Human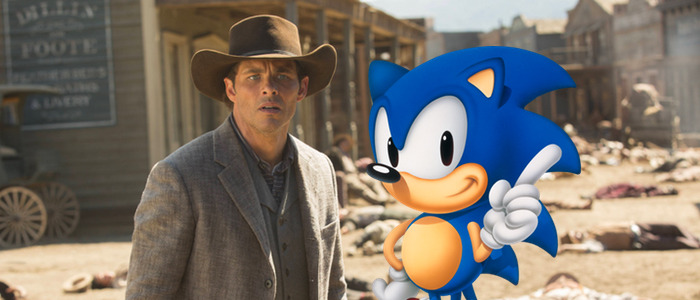 Paramount is really going ahead with this whole live-action Sonic the Hedgehog movie idea, and now they've found their lead: James Marsden, of Westworld and X-Men fame. There's no word on who Marsden is playing, though.
Just how will a live-action Sonic the Hedgehog movie work? I don't know, but we're about to find out. Paramount has loaded up on chili dogs and they're ready to run full speed ahead towards their set November 15, 2019 release date, and now they've found just the man to get them there: James Marsden. Variety reports Marsden has joined the cast of the live-action/animation hybrid. But who is he playing?
If Marsden is "starring" in the Sonic the Hedgehog movie, as reports indicate, that could suggest he's playing Sonic the Hedgehog. But that seems unlikely, so he's probably just playing a human character Sonic encounters. Why are there humans in a Sonic the Hedgehog movie? Beats me! Only Patrick Casey, Josh Miller and Oren Uziel, who all wrote drafts of the script, can answer that one. Still, there's a part of me that really hopes Marsden just ends up playing Sonic, and they don't even bother to replace him with a CGI character. Just have James Marsden running around, dressed as a normal guy, shouting: "It's me, Sonic the Hedgehog!" Now that I'd see.
Sonic the Hedgehog is a video game series created in the 1990s by Sega. The game focused on the eponymous hedgehog – a blue, spiky fellow in red sneakers who can run really fast. Sonic spends most of his games speeding around gathering up gold rings and fighting Dr. Robotnik, a villain intent on ruling the world. To stop him, Sonic has to acquire Chaos Emeralds and jump on a lot of bad guys' heads.
This will be Sonic's first big-screen adventure, but the character has starred in several different animated TV shows. He also had a cameo in Wreck-It-Ralph.
Neal H. Moritz is producing the film, and Deadpool director Tim Miller is executive producing with Toby Ascher. Jeff Fowler is directing. I guess the only question left now is: why are they doing this? And also, who will be voicing Sonic the Hedgehog? But really – why are they doing this?
Marsden is a likable guy, and he has real comedic chops he doesn't get to use often. So I'm all for him getting bigger roles in bigger films. Hopefully he can use Sonic the Hedgehog as a stepping stone to something bigger and better. Like a Mega Man movie, maybe.