Hailee Steinfeld To Play Comedy Legend Emily Dickinson In New Apple Series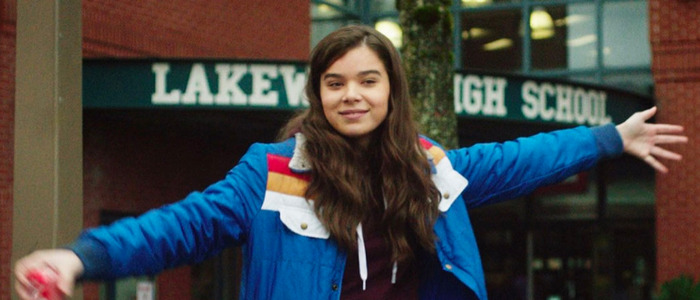 Everyone's favorite funny person Emily Dickinson is getting her own TV series from Apple. Dickinson will star Hailee Steinfeld as poet Emily Dickinson, but don't expect a stuffy costume drama. The series is being billed as a comedy, and David Gordon Green is set to direct.
Apple is hard at work lining-up new original shows for their upcoming streaming service, and now they're adding a Emily Dickinson comedy to the list. Dickinson, the poet who penned such legendary poems as "Because I could not stop for Death" and "I felt a Funeral, in my Brain" may not seem like an obvious subject for a comedy series, but Apple is going to give it a go anyway with Dickinson.  Hailee Steinfeld, of True Grit and the upcoming Bumblebee, will star as Dickinson.
Per Deadline, the show "is set during Emily Dickinson's era with a modern sensibility and tone. It takes viewers into the world of Emily (Steinfeld), audaciously exploring the constraints of society, gender, and family from the perspective of a budding writer who doesn't fit in to her own time through her imaginative point of view. Dickinson is Emily's coming-of-age story – one woman's fight to get her voice heard."
Dickinson's life was also the subject of the recent film A Quiet Passion, starring current New York gubernatorial candidate Cynthia Nixon as Dickinson. A Quiet Passion was actually surprisingly funny, so maybe there's something to this whole "Emily Dickinson comedy" idea. Dickinson was born in 1830, and while we recognize her to be one of America's greatest poets today, she was virtually unknown in her own time. Dickinson wrote her poems and letters in secret, and it wasn't until after her death that her sister Lavinia discovered them and had them published.
During the later half of her life, Dickinson became something of a recluse – although there's some debate about this. Many have speculated she suffered from agoraphobia, depression and/or anxiety, while others say her reclusion was primarily due to responsibilities as guardian of her ailing mother.
Again, I'm not exactly sure how this translates into comedy, but I'm willing to find out. The series will be written by Alena Smith (The Affair, The Newsroom). Halloween and Your Highness filmmaker David Gordon Green is set to direct. Smith and Green will also serve as executive producers, along with Alex Goldstone, Michael Sugar, Ashley Zalta and Darlene Hunt.
Dickinson joins Apple's growing line-up of original shows. They also have a reboot of Amazing Stories in the works, as well as a thriller from M. Night Shyamalan, a Ronald D. Moore space drama, a series from La La Land director Damien Chazelle, and a comedy series co-starring Jennifer Aniston and Reese Witherspoon.