Pop Culture Imports: A Tranquil Korean Reality Show, A South African Romantic-Comedy, And A Delicious Documentary On Chinese Food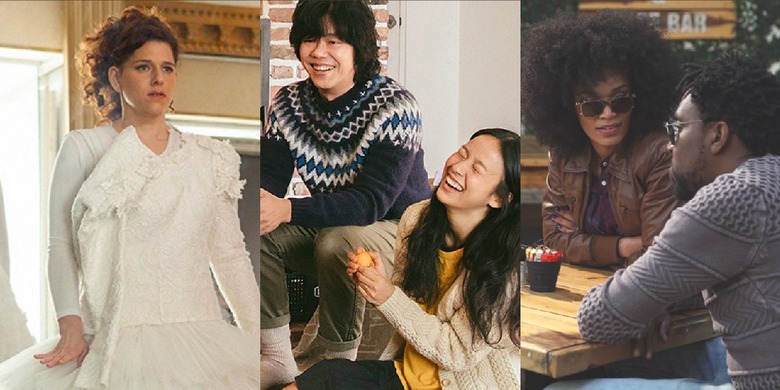 (Welcome to Pop Culture Imports, a column that compiles the best, wackiest, and weirdest foreign-language movies and TV shows streaming right now.)
Yes, it's that time again — the time when I yell at you to dive into the wealth of foreign movies and shows available to stream, and you nod your head and vaguely promise that you totally like reading subtitles. And because of the strange ways that weeks sometimes work, this is our third Pop Culture Imports for May!
This week has a wide variety of titles, from a mellow South Korean reality show, to a South African domestic drama, to an Israeli rom-com, and finally, a documentary about the Chinese restaurateur who introduced the U.S. to authentic Chinese cuisine.
So with that, let's dive into the best foreign-language movies and shows streaming now.
1. Hyori's Bed and Breakfast - Netflix
Country: South KoreaGenre: Reality showCreator: Yoon Hyun-joonCast: Hyori Lee, Sang-soon Lee, IU, Yoon-ah Im
Like all of you, I was left at a loss after I sped through the latest eight episodes of Terrace House: Opening New Doors (see my write-up of Part 1 two months ago). How now to fill the gap of the soothing reality show balm for the soul that was Terrace House? Should you turn to the pressure cooker of a romance travel show that is Ainori? The crude and malicious Real (L)ove? No, the reality show replacement actually comes from across the sea, in South Korea's Jeju Island. The South Korean reality show Hyori's Bed and Breakfast is Terrace House's successor in so many ways, while managing to be even more low-key than the positively lethargic Terrace House.
More like a travelogue than a dating show, Hyori's Bed and Breakfast centers around pop diva Hyori Lee and her husband Sang-soon Lee as they open up their isolated Jeju Island estate to guests from around the country. The couple's zen island life suddenly becomes a hive of activity after they turn their cozy house into a bed and breakfast. Aided by various popular celebrities, Hyori and Sang-soon find themselves thrust into public life for the first time in years — and loving it. The interactions between the couple and the guests are sweet and endearing, and the glimpses of the rustic life on Jeju Island (a popular getaway in South Korea) are idyllic. Hyori's Bed and Breakfast is a heartwarming slice of life reality show that can scratch your Terrace House itch and make you want to pack your bags for Jeju Island immediately.
Watch This If You Like: Terrace House, Anthony Bourdain's Parts Unknown, Departures, living vicariously through travel shows so you can plan your own Eat Pray Love trip.
2. The Wedding Plan – Hulu
Country: IsraelGenre: Romantic comedyDirector: Rama BurshteinCast: Noa Koler, Amos Tamam, Oz Zehavi, Dafi Alpern, Roni Merhavi, Irit Sheleg.The Wedding Plan has a premise straight out of a conventional '90s romantic-comedy: a 32-year-old devout Israeli woman, Michal, is desperate to marry but on the eve of her wedding, her fiancé admits that he doesn't love her. Left with a month before her wedding date, Michal brazenly decides to go through with the ceremony anyways, leaving the identity of her groom up to God. While The Wedding Plan sounds generic as hell, it surprisingly is not as quirky as Michal's hare-brained scheme would have you believe. And that's in large part thanks to star Noa Kooler's prickly and vulnerable performance as an ultra-Orthodox Jewish woman who is looking not for love, but for stability.
Michal is an unusual rom-com heroine, going on a series of blind dates with an attitude befitting a mortician, not a bride-to-be. She borders on unlikable, pushing away friends, family, and even potential love interests in her resolute belief that God will choose her groom. As a devoutly Orthodox woman from Israel herself, director Rama Burshtein infuses The Wedding Plan with an earnest, genuinely religious perspective that gives the film a bit more emotional heft and authenticity — even when each of the men whom Michal meets in the movie is unnaturally rom-com hot.
Watch This If You Like: My Big Fat Greek Wedding, Serendipity, What's Your Number?, proof that the rom-com is not dead yet.
3. Catching Feelings – Netflix
Country: South AfricaGenre: Romantic drama/comedyDirector: Kagiso LedigaCast: Kagiso Lediga, Pearl Thusi, Andrew Buckland, Akin Omotoso, Precious Makgaretsa, Kate Liquorish and Tessa Jubber.
Like any comedy starring, written, and helmed by a stand-up comedian, Catching Feelings can feel somewhat like a self-indulgent stand-up routine. But star and director Kagiso Lediga proves to have a sharp eye for filmmaking, delivering a richly layered, darkly comedic romantic drama. Lediga stars as an embittered English professor suffering from writer's block and insecurity regarding his beautiful wife Samkelo (Pearl Thusi). But the two of them live a happy life in a middle class area of Johannesburg — with Lediga occasionally rattling the cage whenever he rails against gentrification and racial politics in post-apartheid South Africa. But their urbane life is given a shock to the system when an older celebrity writer, Heiner Miller (a bombastic Andrew Buckland), enters their lives. At first resistant to Heiner's charms, Lediga's Max Matsane finds himself drawn into the famous writer's hedonistic lifestyle. But soon Heiner begins encroaching on Max's home life, moving into his home and becoming fast friends with his wife. Wracked with insecurity and paranoia, Max's life and mental state quickly unravels.
Catching Feelings walks a tightrope between screwball comedy and deeper insights on racial tensions in South Africa — sometimes stumbling, but never anything less than entertaining.Watch This If You Like: The Incredible Jessica James, Young Adult, While We're Young, turmoiled men self-sabotaging themselves.
4. Soul of a Banquet – Hulu
Country: ChinaGenre: DocumentaryDirector: Wayne WangCast: Cecilia Chang, Alice Waters, Ruth Reichl.Wayne Wang's definitive The Joy Luck Club was both a celebration of four generations of Chinese women as much as it was a celebration of the delectable food around which their lives revolved. So it's no surprise that the Hong Kong-born American would turn his camera to yet another auspicious Chinese woman who introduced high-end Chinese cuisine to America.Soul of a Banquet is a simple, slow-burning love letter to Cecilia Chang, the famous restaurateur who, in 1961, changed the face of Chinese food in America. Called the matriarch of modern Chinese cooking, Cecilia was an accidental restaurateur whose internationally renowned restaurant The Mandarin would introduce the San Francisco Bay area, and later the rest of the world, to a style of gourmet Chinese cooking that was once thought lost in the wake of Mao Zedong's cultural purge of China in the Cultural Revolution. For the first time, Chinese food was no longer synonymous with Westernized poor-man's chop suey — Cecilia gave her cuisine prestige and a whole lotta heart.
While the documentary features a few too many white women explaining to the audience what "real" Chinese food is, Soul of a Banquet springs to life whenever Cecilia Chang comes on screen. The first half of the film is a simple oral history, recounting The Mandarin's rise to fame and Cecilia's own life and her family's struggle against Communism. But the second half becomes the lavish Valentine to Chinese cooking you were all waiting for, as Cecilia prepares for a huge banquet that will leave your mouth watering.
Watch This If You Like: Jiro Dreams of Sushi, The Trip, watching The Food Channel while gorging yourself on Chinese food.
5. Sara's Notebook – Netflix
Country: SpainGenre: DramaDirector: Norberto Lopez AmadoCast: Belén Rueda, Marián Álvarez, Enrico Lo Verso, Manolo Cardona, Marta Belaustegui, Nick Devlin.
A brutal and horrifying portrait of the war-torn Congo, Sara's Notebook is anchored in a story about two sisters who must overcome a physical and emotional distance. The Spanish film follows a naive Madrid lawyer named Laura who suddenly finds proof of her sister Sara's survival after she went missing for two years in the Congo. Flustered and out of her element upon her arrival to Uganda to meet the rescue team, Laura ventures deep into the Congo to find her sister, but soon finds herself in a bloody and violent battle for her own survival.
When it's not acting as an overt homage to Heart of Darkness (and to an extent, the Joseph Conrad novel's hugely problematic othering), Sara's Notebook is a profound tale of two wildly different sisters. The emotional narrative sometimes gets muddied in the film's ping-ponging between genres — it rapidly moves from crime drama, brutal thriller, to political conspiracy — but it remains effective all the same.
Watch This If You Like: Blood Diamond, Babel, First They Killed My Father, sadness.