'X-Force' Director Drew Goddard Talks About Picking Up The Pieces After 'Deadpool 2'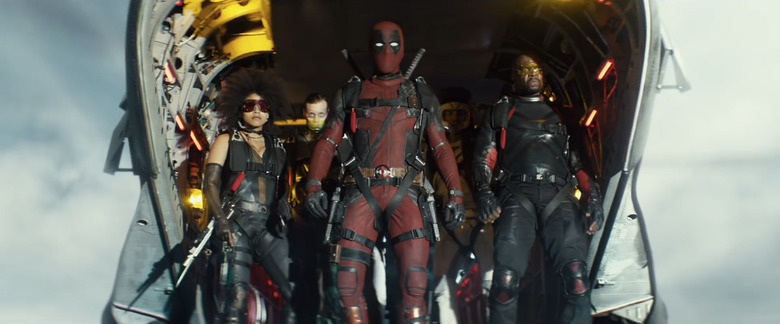 20th Century Fox is developing an X-Force film that's going to be written and directed by The Cabin in the Woods director Drew Goddard, and while making the press rounds to promote his next movie (a small crime thriller called Bad Times at the El Royale), Goddard has revealed his approach to tackling the superhero sequel. Read about his reaction to Deadpool 2's big twist, how he'll handle the fallout of that film, and more in this X-Force movie update.
Warning: spoilers for Deadpool 2 below.
In a new interview, Goddard – who served as a script consultant on Deadpool 2 – told Entertainment Weekly about his first reaction to the scene in the movie in which a significant percentage of the newly-formed X-Force squad are promptly killed off just seconds into their first mission. You might think he'd be a bit miffed at having a lot of his cast ripped away before he had a chance to make a movie with them, but he says he loved the movie's "sense of surprise and danger".
"To be honest, I think that's why it excited me so much. I remember reading that scene and just cackling with delight, specifically because it was the very last thing you'd expect to happen in one of these movies. These movies are so careful to set up the next thing and the next thing, and it made me so happy.
One thing I said to [co-writer and star] Ryan [Reynolds] was, 'Don't worry about it, we'll come up with new ideas; you guys go make your movie, and do your thing. We'll figure it out.' That tends to be the way I like to work. It's much more important to focus on making the movie that you're making than focusing on the next thing. It's much more important to just make one good movie and take your time, then let that dictate what the movies are after."
With some of the team wiped out (except for Rob Delaney's regular guy Peter, who was saved in a mid-credits scene), Goddard says the X-Force movie will center around Deadpool, Cable, and Domino. He's been a fan of those characters since he first read the comics as a kid, and since he says "it's much more about the characters and my love for them than it is about any plot or story line," don't expect an exact adaptation of any particular comic run featuring those characters. "I trust that my love of these three will lead me someplace new," he said.
I thought Josh Brolin's Cable and Zazie Beetz's Domino were two of the best parts of Deadpool 2, so while it's no surprise that they'll be coming back for more, I'll be glad to have them as a respite to Deadpool's zaniness, which is increasingly wearing thin for me in these movies. And even though I wasn't crazy about Deadpool 2, the good news is that Goddard is great at writing characters – he should be able to navigate the tone of X-Force a bit better than Deadpool 2, which I thought suffered from two conflicting tones: wanting the audience to invest in Deadpool's relationships with both Vanessa (who was reduced to a ghost in the movie) and the young mutant Russell, while also wanting to keep a zippy, Airplane-like comedic pacing throughout. Fingers crossed Goddard will be able to overcome those tonal mismatches that I found so jarring and make an X-Force film into something a bit more cohesive.