'Spider-Man: Into The Spider-Verse' Trailer: Miles Morales Swings Into Action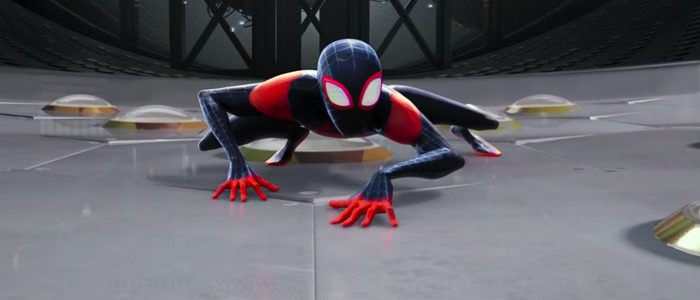 We're about to enter a cinematic universe where more than one person can wear the Spider-Man mask. After a long wait, half-black/half-Latino character Miles Morales takes center stage for the first time in Spider-Man: Into the Spider-Verse, a stylish new animated film that casts Peter Parker as a supporting player in another Spidey's story. Check out the new trailer below.
Spider-Man: Into the Spider-Verse Trailer
I absolutely love the visuals on display here, with bright, popping colors and neon lights reflecting off of wet streets. The slick style is unlike anything we've seen before, even with the proliferation of comic book movies during the past twenty years. I'm especially fond of the little bursts of dotted animation that are interspersed in some sequences. They're reminiscent of the work of pop artist Roy Lichtenstein, an artist who used comics as inspiration to parody his subjects and a person who seems like a natural influence for storytellers like Phil Lord and Chris Miller. They've built their whole careers on poking fun while still creating memorable genre entries.
Miles Morales is voiced by Shameik Moore, who broke out with his lead performance in the 2015 indie film Dope and went on to star in the now-cancelled Netflix drama The Get-Down. He seems like a natural fit for this character, bringing a sensitivity, humor, and uncertainty to the role that immediately endears him to the audience.
Along with today's trailer, Sony Animation also revealed some info about the film's voice cast, including the fact that Liev Schreiber (Ray Donovan) is playing Kingpin, Mahershala Ali (Moonlight) is playing Miles' uncle Aaron, Bryan Tyree Henry (Atlanta) plays Miles' father Jefferson, Luna Lauren Velez plays Miles' mother Rio, Lily Tomlin plays Aunt May, and Jake Johnson (New Girl) provides the voice of Peter Parker this time around. Plus, Hailee Steinfeld plays Spider-Gwen aka Gwen Stacy. Very cool.
Peter Ramsey (Rise of the Guardians), Bob Persichetti (The Little Prince), and Rodney Rothman (22 Jump Street) are co-directing the film, which was written by Phil Lord and produced by Lord and Miller.
Phil Lord and Christopher Miller, the creative minds behind The Lego Movie and 21 Jump Street, bring their unique talents to a fresh vision of a different Spider-Man Universe, with a groundbreaking visual style that's the first of its kind. "Spider-Man: Into the Spider-Verse" introduces Brooklyn teen Miles Morales, and the limitless possibilities of the Spider-Verse, where more than one can wear the mask.
Spider-Man: Into the Spider-Verse arrives in theaters on December 14, 2018.