'Solo' Box Office Means 'Star Wars' May Flee The Summer For The Foreseeable Future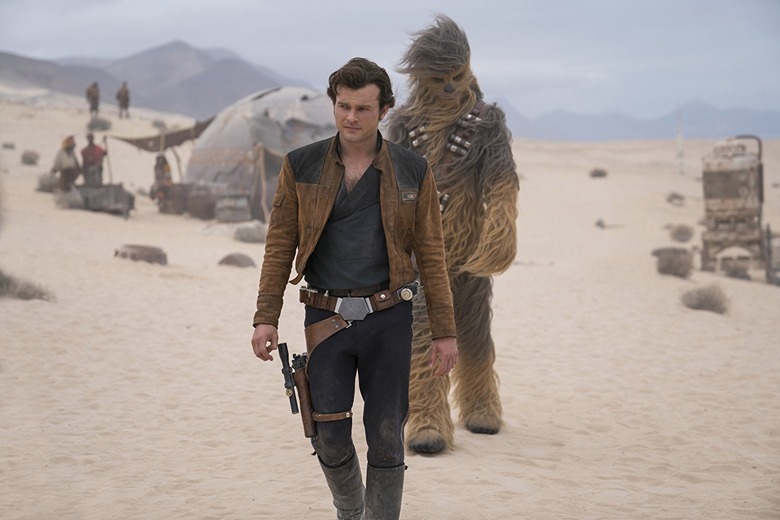 The box office performance of Solo: A Star Wars Story is so off-the-mark that it has Disney and Lucasfilm reconsidering its entire Star Wars summer release strategy. In a rare miss for Disney, Solo underperformed at the box office, raking in half as much as its spin-off film predecessor, Rogue One.
Now, with Solo struggling to break even, Disney and Lucasfilm are at a crossroads. Do they continue releasing Star Wars movies in the high-competition summer season? Or will they stick to the Christmas months that have given them record-breaking success with The Force Awakens and The Last Jedi?
It will likely be the latter, insiders told The Hollywood Reporter in the wake of Solo's disappointing $103 million opening weekend domestic haul. The Star Wars prequel disappointed internationally as well, only raking in $65 million in global markets. That brings Solo's grand total so far to $168 million, which is measly compared to Rogue One's $290.5 million global opening in December 2016. THR estimates that at Solo's current rate, the film won't gross much more than $400 million total.
So what could be the cause of Solo's disappointing box office performance? Some point to the stiff competition that the Star Wars film currently faces at the box office, including fellow Disney cohort, Marvel's Avengers: Infinity War, and 20th Century Fox's Deadpool 2. Both comic book movies have enjoyed critical acclaim and tons of hype, dominating the top of the box office charts for the past few weeks. Meanwhile, Solo comes merely five months after the polarizing Star Wars: The Last Jedi, and was plagued by behind-the-scenes troubles including errant directors (original directors Phil Lord and Chris Miller were replaced by Ron Howard midway through production).
Disney Takes Us Back to December
But Disney and Lucasfilm may be honing in on the "Star Wars fatigue" explanation. The companies won't abandon their "one Star Wars movie per year" plan, but it looks like they're conceding that five months really is too short of a window. Disney will likely keep all of their Star Wars releases — main saga, spin-off, or otherwise — to the December months/Christmas season, where all of the new Star Wars saga and standalone films have done phenomenally well.
Force Awakens, Rogue One and Last Jedi all opened in mid-December and had no direct competition. All three went on to become the biggest films of their respective years (2015, 2016 and 2017).
In retrospect, it seems like it was foolhardy of Disney and Lucasfilm to go through with a May release date for Solo — especially after its eleventh-hour director switch — but it's not totally surprising that they would gun for a summer release date. Star Wars used to own Memorial Day weekend, with each of the films in the original trilogy and the prequel trilogy opening in late May. But it looks like they've lost the box office battle for that holiday weekend. But no matter: Star Wars will still be the king of Christmas with J.J. Abrams' Star Wars: Episode 9 set to open in theaters on December 20, 2019.