'Ant-Man And The Wasp' TV Spot: Paul Rudd And Evangeline Lilly Get Ready To Bust A Ghost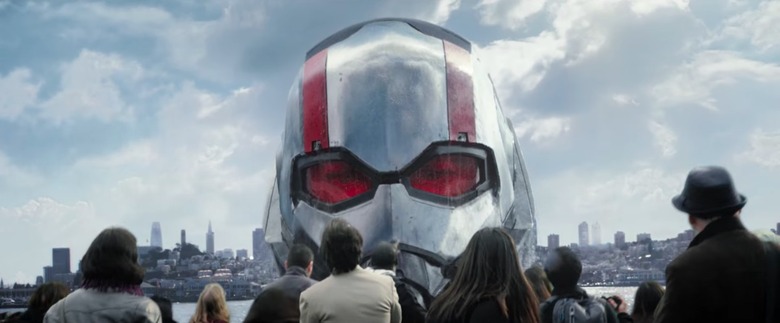 Paul Rudd and Evangeline Lilly ain't afraid of no ghosts — at least, they're not afraid of Ghost with a capital "G." Ghost is the latest Big Bad to hit the Marvel Cinematic Universe, and she gets the spotlight in the newest Ant-Man and the Wasp TV spot.Hannah John-Kamen plays the technically-gifted villain of Ant-Man and the Wasp, and it's up to Scott Lang, Hope van Dyne, and Hank Pym (Michael Douglas) to stop her nefarious plans.
Ant-Man and the Wasp TV Spot
There's only one way to defeat an evil supervillain: Make...a list? "If you wanna do something right, you make a list," Rudd's Scott Lang says in the latest Ant-Man and the Wasp TV spot. He's understandably greeted with glares from Hope (Lilly) and Hank (Douglas), though I get the feeling they'll end up more or less following the master thief's plan to a tee.
The Ant-Man sequel will involve Hope's mission to save her mother, Michelle Pfeiffer's Janet van Dyne (a.k.a. the original Wasp), from the Quantum Realm. However, as Hope mentions in the teaser, "We unleashed something powerful." That "something" is likely the Pym technology that Ghost stole from Hank Pym to give herself the ability to phase through solid objects.
"Ghost's primary power is the ability to 'phase,' which allows Ghost to move through solid matter," director Peyton Reed told Entertainment Weekly. "She has all sorts of strange versions of that phasing power — it proves quite difficult for Ant-Man and Wasp to deal with."
Walton Goggins, Laurence Fishburne, Michael Pena, T.I., Judy Greer, David Dastmalchian, and Randall Park also star in Ant-Man and the Wasp.
Here is the official synopsis for Ant-Man and the Wasp:
Scott Lang is grappling with the consequences of his choices as both a superhero and a father. Approached by Hope van Dyne and Dr. Hank Pym, Lang must once again don the Ant-Man suit and fight alongside the Wasp. The urgent mission soon leads to secret revelations from the past as the dynamic duo finds itself in an epic battle against a powerful new enemy.
Ant-Man and the Wasp opens in theaters on July 6, 2018.