'Game Of Thrones' Creators David Benioff And D.B. Weiss Will Make "Star Wars On Acid," Emilia Clarke Says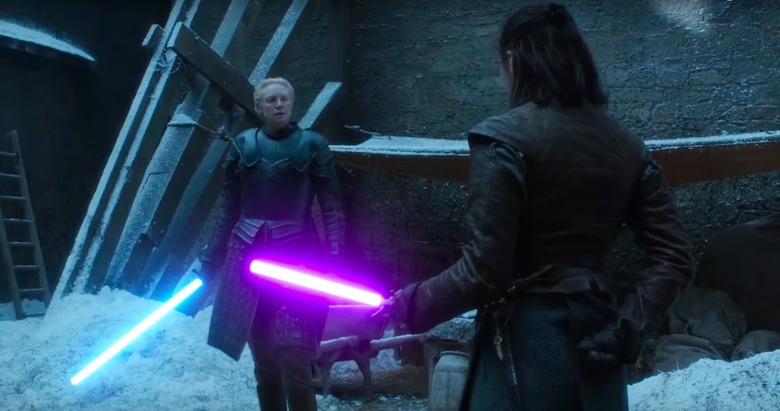 Game of Thrones will soon close out its buzzy, critically acclaimed eight-season run next year, putting an end to the zeitgeist that the HBO series creators David Benioff and D.B. Weiss ruled over for nearly a decade. But Benioff and Weiss will soon find themselves in the cockpit of yet another beloved franchise.
Lucasfilm
the Game of Thrones creators' Star Wars project earlier this year, but details on their new series remain scarce. We only have their prior work to pull from to imagine what Benioff and Weiss' Star Wars films will look like, so our closest guess would be a grittier take on the sci-fi series. But Game of Thrones and Solo: A Star Wars Story star Emilia Clarke has a better suggestion for you: Star Wars on acid.
Benioff and Weiss will helm a new series of Star Wars films for Lucasfilm, following news that Star Wars: The Last Jedi director Rian Johnson would be getting a new trilogy of his own.
The Game of Thrones duo will begin work on their Star Wars films after the HBO show wraps in 2019, but have given no hint as to what their movies would look like. But their longtime star and Star Wars newbie Clarke has an idea.
In an interview with Variety, Clarke was asked what she thinks will happen in Benioff and Weiss' Star Wars movies. She wasn't privy to any details herself, but Clarke was quite confident that her bosses at the HBO show would bring an exciting new spin to Star Wars. She said:
"[They'll bring] what they brought to fantasy as a genre people are appreciating on a much grander scale. Putting all that creativity, all of that skill and all of that intellect into something that already is, or has, so much. I think it's just going to be Star Wars on acid. I think it'll be amazing. I can't wait."
"Star Wars on acid" are some strong words, but Clarke probably knows Benioff and Weiss' writing processes better than anyone, having starred in Game of Thrones since 2011.
Whether Benioff and Weiss improved upon George R.R. Martin's A Song of Ice and Fire series with Game of Thrones is up for debate, but there's no question that they are a talented, hard-working duo. And with Clarke's hyperbolic words to support them, we can look forward to their Star Wars films.