'Solo: A Star Wars Story': What Did You Think?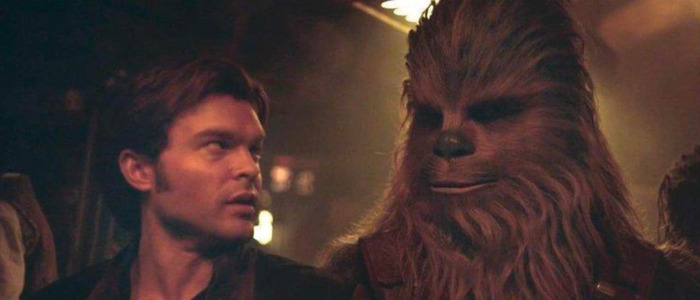 After an infamously troubled production, Solo: A Star Wars Story is here. The overall critical opinion? It's good, not great. But we want to hear from you. Did you love it? Did you hate it? Did you spend the whole time wishing they had just made a Lando movie instead? Tell us your Solo reactions below.
It's time for yet another Star Wars movie to blow up the box office. Solo: A Star Wars Story is now playing everywhere, and the general reaction seems to be positive. As of the time of this writing, the film is sitting at 69% (nice) on Rotten Tomatoes, with the consensus calling it:
A flawed yet fun and fast-paced space adventure, Solo: A Star Wars Story should satisfy newcomers to the saga as well as longtime fans who check their expectations at the theater door.
In my own review of the film, I praised Solo for being an entertaining ride with likable characters. But I also felt that the movie just wasn't really about anything, especially after witnessing the big, bold storytelling of Star Wars: The Last Jedi:
And yet, what's the point of all of this? What hurts Solo is the fact that it's ultimately not about anything. Let me be clear: I understand that in one way or another, all Star Wars films simply exist to create more Star Wars films. These stories are products. But Solo is the first Star Wars film in recent memory that feels like it's selling something...Perhaps I've been ruined by Star Wars: The Last Jedi. Rian Johnson's film is loaded with ideas – it's a big, bold, brilliant film with a lot on its mind. Solo, in contrast, just wants to have a good time and then roll the credits. Maybe that's not such a bad thing. Maybe that's exactly the sort of adventure you're looking for.
/Film Editor-In-Chief Peter Scrietta was a bit more impressed, calling the film "a blast" and saying it felt "unlike any Star Wars movie before, yet perefectly captures the tone":
#Solo feels surprisingly unlike any Star Wars movie before, yet perfectly captures the tone, adventure, characters and humor of the #StarWars franchise. Also, I need a Lando movie in my life.

— /Film (@slashfilm) May 11, 2018
Managing Editor Jacob Hall shares my opinion that we've been spoiled a bit by Rian Johnson's The Last Jedi, but adds that Solo is charming enough to be worth your time:
SOLO: Rian Johnson spoiled us with fine dining, but Ron Howard knows how to make a tasty hamburger. Charm goes a long way to smooth out those rough patches and this cast has it in spades.

— Jacob Hall (@JacobSHall) May 25, 2018
Weekend Editor Ethan Anderton though the film was a "delightful adventure":
#SoloAStarWarsStory defeats the odds that you never want to hear about. It's an absolute blast and Alden Ehrenreich makes for a worthy successor to the name Han Solo. So many moments that had me grinning ear to ear. Just a big, delightful adventure.

— Ethan Anderton (@Ethan_Anderton) May 14, 2018
Perhaps the biggest flaw is that #SoloAStarWarsStory is a bit too dark and dreary in the visual department. Just gloomy for a majority of it. Though there are still some breathtaking shots and sequences.

— Ethan Anderton (@Ethan_Anderton) May 14, 2018
Writer Ben Pearson summed his feelings up with a succinct gif:
Solo: pic.twitter.com/1eXlF3EtQf

— Ben Pearson (@benpears) May 22, 2018
In her look at the film, Karen Han said the film was "uneven and messy and a whole bunch of fun":
Come for the Star Wars, stay for the new characters and rip-roaring action. If this Solo endeavor ends up spawning sequels, maybe the formula will smooth out a little. But for now, it's all it needs to be as a franchise installment, and not too much more.
But enough about us. What about you? Tell us your Solo: A Star Wars Story thoughts in the comment section below!