Daily Podcast: How Much Of 'Solo' Is Ron Howard Responsible For? Michael Bay, George R.R. Martin, Star Wars & Sinemia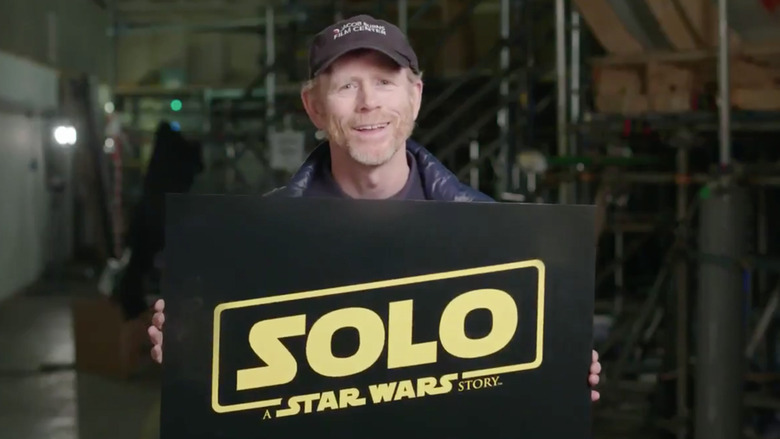 On the May 24, 2018 episode of /Film Daily, /Film editor-in-chief Peter Sciretta is joined by /Film senior writer Ben Pearson to talk about the latest film and tv news, including Sinemia, George RR Martin, Michael Bay's Netflix movie and Star Wars: Galaxy's Edge. We'll also try to answer a question in the Mail Bag about who is responsible for the creation of a film, and we'll run the audio from my interview with Solo: A Star Wars Story director Ron Howard.You can subscribe to /Film Daily on iTunes, Google Play, Overcast, Spotify and all the popular podcast apps (here is the RSS URL if you need it).
In the News:
Michael Bay's 'Six Underground' Will Be Netflix's Most Expensive Original Film Yet
MoviePass Competitor Sinemia Begins Offering Cardless Ticket Reservations to Keep Up With High Demand
George R.R. Martin Developing 'Ice Dragon' Film at WB, Laughing at Those Hoping to Ever Read 'The Winds of Winter'
In The Mail Bag: Owen from Los Angeles writes in, "So I know there has been a lot of talk about this Wall Street Journal article that attributes 70% of the finished Solo film to Ron Howard and 30% to Lord & Miller but I thought it would be a really interesting discussion to dissect what that means. Sure Howard shot 70% of the actual film but he didn't cast the movie, do the Pre-Vis, hire the key crew (including DP) or set the look and style of the film. So is this film more Howard or Lord and Miller. I'd argue that Howard played with the toys that Lord and Miller left. I think this is an interesting discussion because I had the same feeling with Ant Man. In many ways that film is more squarely in Peyton's camp since he entirely directed the film but Edgar cast a lot of the key roles (if not all, right?), did all the pre-vis and set a lot of the style (ie costumes etc.) Also McKay set a lot of the comedic tone with the script before Peyton was onboard. So it's interesting in many ways to have such strong cooks in the kitchen.  I think Ant Man benefited by all those collabs.I just think the amount of screen time one directed does not a movie make."In Our Feature Presentation: Ron Howard Talks About the Unique Challenge of Making 'Solo' [Interview]All the other stuff you need to know:You can find more about all the stories we mentioned on today's show at slashfilm.com, and linked inside the show notes./Film Daily is published every weekday, bringing you the most exciting news from the world of movies and television as well as deeper dives into the great features from slashfilm.com.You can subscribe to /Film Daily on iTunes, Google Play, Overcast, Spotify and all the popular podcast apps (RSS).Please feel free to send your feedback, questions, comments and concerns to us at peter@slashfilm.com. Please leave your name and general geographic location in case we mention the e-mail on the air.Please rate and review the podcast on iTunes, tell your friends and spread the word!Thanks to Sam Hume for our logo.