'Krypton' Season 2 Teaser Dissolves The Superman Symbol Of Hope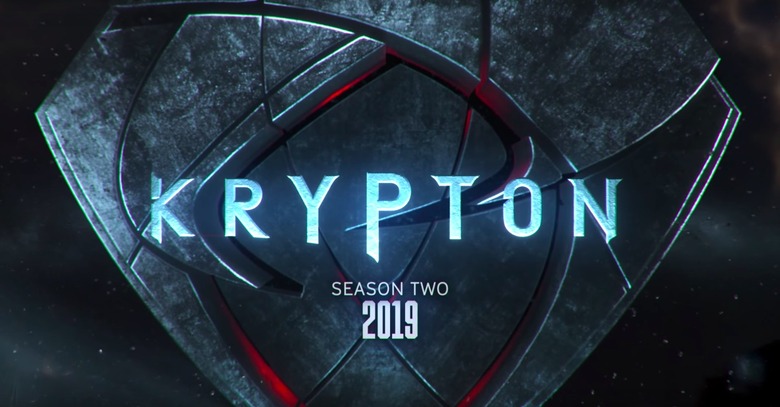 With Syfy's Krypton renewed for a second season after a rocky but promising debut, the network is already on top of promoting the sophomore outing. The first Krypton season 2 teaser has been released, offering no new footage, but giving a tantalizing picture of what the second season of the Superman prequel will explore.
Krypton Season 2 Teaser
"The symbol you know is no more," the Krypton season 2 teaser ominously declares. And so the Kryptonian experiment continues, with the symbol of hope scattered to the wind. It's a dark next step for the Syfy series, which wrapped up with a game-changing finale this week. With its season 1 finale, Krypton introduced the concept of possible alternate realities in the series, opening the doors for all kinds of stories that the show can explore.
As /Film's Monique Jones writes, "...this finale was, for the most part, a success. It's set in motion many interesting ideas that I hope are thoroughly sussed out next season. Maybe I'm being generous here, but I hope this season was more like a test run, a way for the story to work its kinks out, and that it'll come back with more gusto and fire next season."
So what's in store next season?
Executive producer David S. Goyer remained tight-lipped on what the second season would entail, though he did recently tell Indiewire that while the series hasn't necessarily subscribed to any particular pre-existing notion of time travel, their internal logic will help guide how the show handles any future timeline problems.
"If it's a free-for-all, I think people throw up their hands and get bored. I don't think those rules will become apparent, certainly not in the first season. Maybe by the second or third season they will, if we get that far," Goyer said.
Here is the official synopsis for Krypton:
Set two generations before the destruction of the legendary Man of Steel's home planet, Krypton follows Superman's grandfather (Cameron Cuffe, The Halcyon) — whose House of El was ostracized and shamed — as he fights to redeem his family's honor and save his beloved world from chaos. Based on DC characters, Krypton is executive produced by David S. Goyer (Man of Steel, Batman v Superman: Dawn of Justice, The Dark Knight trilogy). Cameron Welsh (Ash vs Evil Dead) serves as executive producer and showrunner.
Krypton will return to Syfy in 2019. Viewers can catch up on Krypton at SYFY on demand, which includes SYFY.com and the SYFY App.