'UnReal' Will Bring Its Messy, Magnificent Four-Season Run To An End On Hulu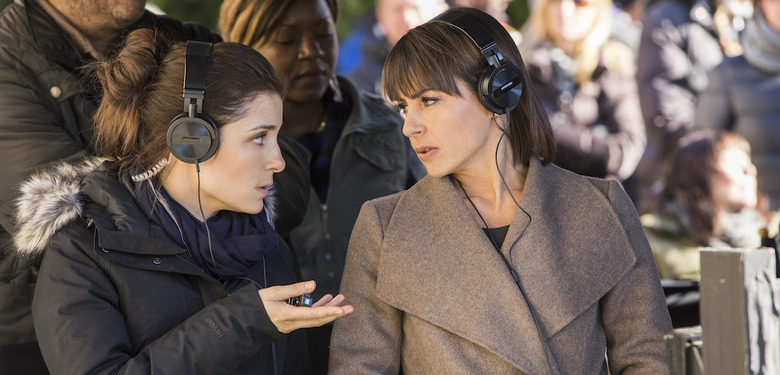 When UnReal premiered on Lifetime in 2015, it felt revolutionary. Here was a pitch-black drama about the lurid behind-the-scenes conflicts of a Bachelor-style reality show, featuring two of the most fascinating and fearsome antiheroines on TV (played with withering contempt by Shiri Appleby and Constance Zimmer). Immediately, UnReal became a critical darling and a boon to Lifetime's bid to be taken seriously in the oversaturated prestige TV market.
But then UnReal fell to its own behind-the-scenes conflicts. Co-creator Marti Noxon left series after its Emmy-nominated first season and the series suffered a bad sophomore slump. Attempts to restore the show's creative potential mostly fell flat in its most recent third season, while ratings dipped even further. Now, the show that was once hailed as the "female Breaking Bad" will air its fourth and final season on Hulu.
As the UnReal final season makes its way to Hulu, let's take a look at the show's messy lows and its magnificent highs.
After stumbling through its sophomore season with ill-advised attempts to tap into Black Lives Matter and police brutality, fans waited for UnReal to return to its radical, sharply feminist season-1 glory. And waited. And waited. Season 3 was delayed nearly two years and returned to lower ratings and lower enthusiasm for the former critical darling.
Now, UnReal is heading to Hulu, according to Deadline. The fourth season will likely be the show's last as Lifetime boosts its slate of unscripted shows and suburban B-movie thrillers and its former focus on prestigious dramas falls by the wayside. But perhaps UnReal was never more than a novel experiment for the network. And that may have hurt it.
An Ode to 'UnReal': The Feminist Anti-Heroine Show That Could've Been
Created by Noxon and former Bachelor producer Sarah Gertrude Shapiro, UnReal was part of the slate of radical dramas from "safe" cable networks that were attempting to break out of their easy-watching demographic. USA broke from its sexy easy-watching procedurals with the angsty and cynical Mr. Robot, while Lifetime timidly ventured from its catalogue of cheesy made-for-TV movies with the biting, semi-satirical drama UnReal.
UnReal chronicles the making of a show-within-a-show, a reality series called Everlasting which is a thinly veiled stand-in for The Bachelor. The artificiality of Everlasting stands in stark contrast to the messy, ugly drama behind the camera, centered around the turmoiled producer Rachel (Appleby). Perpetually frazzled and teetering on the edge of a mental breakdown, Rachel was nonetheless great at her job at manipulating other women, which she did at the behest of her caustic boss Quinn (a revelatory Zimmer, who shot off witty one-liners like no other). The opening scene of UnReal's pilot gets to the core of this show's darkly comic takedown of reality TV culture and modern gender roles: Rachel, lying on the floor of a limo populated by giggling contestants, wearing a disillusioned grimace and a grubby "Feminist" T-shirt.
The first season was provocative, funny, shocking, and best of all, it felt like a second coming for female antiheroines. UnReal was unafraid to show its female characters at their messiest and most frustrating. While the majority of the show revolved around the fascinating dynamic between Rachel and Quinn, the series fleshed out its archetypal contestants into women who were alternately co-conspirators and victims of Rachel's machinations.
Seasons Change
Though the third season of UnReal showed promise, it fell to the same convoluted plots and problematic dealings with serious issues (this time, Rachel's ever-present mental illness) of season 2. Now it moves onto an all-star season of "Everlasting," with a blonde, glammed-up Rachel joining the contestants to manipulate them onscreen instead of behind the camera. It's a twist that reeks of Lifetime's soapy twists — which both helped and hindered the show in the past — but once again misses what made the first season feel so radical.
I will miss what UnReal could have been. Maybe not the "female Breaking Bad" as many proclaimed at the time, but something more than the confusing, chaotic mess it became. But there's no question that UnReal will leave a legacy: of complicated, complex female characters who are so much more than they appear to be onscreen.